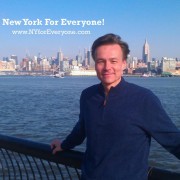 Hi Everyone!
My name is Jari Mattila. I'm originally from Helsinki Finland, and have lived in the US since 1984. As to what/who I am, well, that's a little more difficult to answer, except that after living in various parts of the US, I've discovered that, at least for me, there really is no place like NY. My favorite thing (other than traveling myself…) is to tour the city with visitors and to share my own experiences, as a European in the US, with them.
Here's a little background:
I originally came to the U.S. as a teenager to attend high school as an exchange student in Madison, Wisconsin. Following High School, I spent the next four years studying music at William Paterson University in suburban New Jersey, as well as working as a musician in salsa and merengue bands all over the metropolitan area, most often in Queens. Like many other northerners, I've always had a fascination with warm weather, and soon after graduation decided to give Southern California a try and experience the year-round sunshine and the swaying palm trees. San Diego turned out to be as beautiful as everyone had said, but after living there for nearly a decade, I still missed the energy and lifestyle of New York. There simply is no other place as exciting and full of life. Not to mention the interesting (and funny!) people….
That move happened in 1998 after which I spent the next 15 years or so working with the music departments of two soap operas, Guiding Light and As The World Turns, as well as managing Procter & Gamble's music publishing companies. P&G owned most of the soap operas since the genre began in the 30s and is actually the reason for the term "Soap Opera." P&G originally started out as a soap manufacturing company who then created dramatic (therefore "opera") TV shows on which they advertised their own products exclusively.
In addition to working in music publishing, and as music director for the P&G soaps, I also had some small acting gigs in a yet another soap, One Life to Live, as well as a few low budget independent movies. I've always enjoyed acting and continue doing it whenever an opportunity presents itself. My next project is a courtroom/suspense play titled "Second Seat," which will have its performances in January.
After the soaps operas ended (it was about time, they were on every weekday for nearly 80 years!) I realized that this would be a chance to do something I've always wanted to do but never had the time, which is to put together a private tour and relocation company. I have always loved spending a day walking or driving around the city while having interesting conversations with great people so this is really the ideal job for me. And it's rewarding work, too, as being able to enhance someone's NY experience, whether they are from Finland, Estonia, Spain, or Wisconsin, is really what's it's all about for me. 🙂
All the best,
Jari Mattila
www.NYforEveryone.com
New York For Everyone
https://www.eurocircle.com/euro/wp-content/uploads/member/2015/11/Interview-JariMattila.jpg
730
1221
Kaisa Kokkonen
http://www.eurocircle.com/euro/wp-content/uploads/2014/06/eclogow1.png
Kaisa Kokkonen
2015-11-29 23:51:13
2022-01-10 21:41:28
Jari Mattila – New York For Everyone