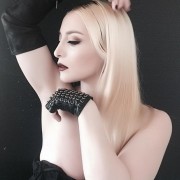 NOTE: Ivana Lola is performing at the EuroCircle event on Thursday, Nov 12 2015 at Caffe Roma
My name is Ivana Lola, I am a singer/songwriter, dancer and a piano player.
I am originally from Italy. I have been singing since I was 8 years old.
I have been working as a singer/songwriter for many years in my country. I also did a lot of collaborations with the Italian Walt Disney, for many famous Italian singers as well as collaborated with many producers.
My last release is a song that I wrote together with one of the most famous Italian DJ/producer – Mario Fargetta.
The title of the song is "SURVIVE" and the video is available on YouTube
I grew up listening to Queen, Michael Jackson, Beatles and many more. I can tell that Freddie Mercury inspired me a lot. I really loved the fact that he was a good singer, an amazing performer and an incredible composer and piano player. On top of that he used to wear crazy things and I am so in love with some particular outfits.
But my best teacher has been my father, who is a very talented singer and piano player. He introduced to me to pop music, Rock music and also classic music, that's why at the age of 6. I also started classical dance, did it for 10 years and got a Diploma. Two years ago I had the pleasure to be invited to sing on stage at the Sayers Club in Hollywood while I was just visiting L.A. as tourist.
It was one of the best experiences of my life, singing here in America. That's when I made the decision to leave Italy and move here. The truth is that I've always had the American Dream.
The reason why I am here to tell you a little bit about myself is because I had the pleasure to meet Sonny Sarna(EuroCircle Los Angeles team), who is a super nice person, at a Venue where I was performing with my band and it was love at first sight ( LOL 🙂 )
Please Follow me on: