Pre-Thanksgiving Cocktails at the Townsend Austin Cocktail Bar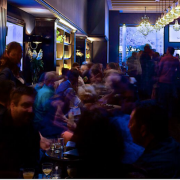 Join EuroCircle Austin team for pre-thanksgiving cocktails at this gorgeous and elegant new venue.
While coming up with a new space is always such a struggle for any volunteer team- occasionally one runs into a bar or restaurant concept that really thrills us.  The  bottom-floor space of a historic building on Congress Avenue, The Townsend is beautiful.
The Townsend Austin is a cocktail bar and performance space located in the Townsend-Thompson Building, a downtown historic landmark built in 1875.  The Townsend also offers an array of vibrant tasting "fine dining bar food" items prepared by their team of excellent chefs.
The concept and design for the Townsend was created by principal owner Steven Weisburd, while co-owner Scott Samson, an acoustician, created the Townsend's music performance space. The Townsend's owner-investor team also includes Kathy Valentine, who helps direct our music program, Suzanne Deal Booth, who helps direct our arts program, as well as Roger Sandau, Stacey Sher, Kerry Brown, and Justin Elliott. The Townsend is managed by Penumbral Strategic Ventures.
This time of year it is good to recall Oprah's saying "Be thankful for what you have; you'll end up having more. If you concentrate on what you don't have, you will never, ever have enough".
Join us to share a few good moments and be grateful for what we have. Bring any lonely Europeans with you and make sure they meet a few people for the holidays. It is a terrible time to be alone.
Allison, Adnan, Emma, Szilvia and Kaisa
PS. Save-the-Date for our joint  Holiday Party with AIN on Friday, Dec 11 @ The Madison