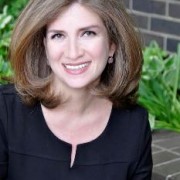 Victoria is one of the first members of EuroCircle in New York City (since 1999). She has also kindly organized well-received real estate workshops for EuroCircle New York members.
Introduce Yourself.
My name is Victoria Vinokur. I was born in Kiev, Ukraine and immigrated to the Midwestern United States in 1989. New York City was always an inspiration and the home of my heart and happily it has been my actual home for over 15 years. I live in Manhattan with my husband and son.
How long have you been working at your current firm?
I have been at my current firm, Halstead Property, LLC , since 2011. Prior to that I was affiliated with another one of the largest real estate firms in the city for about 10 years.
Describe the New York real estate market today.
High demand has the market in overdrive and it appears as though this year will be an especially dynamic one. Lower interest rates that allow buyers to borrow more, and the possibility of a rate rise in the near future, help to fuel the market. It's a very exciting market but not for the faint at heart. I primarily focus on the real estate market in Manhattan, but in my experience working with clients from all over the globe and traveling to many top destinations, I find that prime location and product of high quality is always in demand. At a recent industry event that I attended, Gary Barnett, President and founder of Extell Development Company, described the current market as having "legs for the right product at a good price". Compared to London, for example, New York is a value investment and there are just so many opportunities. It's a very transparent market which benefits the client.
What would you tell someone looking to invest in New York Real Estate?
Manhattan is not like any market in the world or in the country for that matter.
Line up your "board of advisors" prior to buying and/or selling. Make sure to retain a proven and seasoned real estate broker, residential real estate attorney, accountant and/or mortgage professional or bank before putting your apartment on the market or making an offer on an apartment.
Follow your instincts; just because your friend invested in a neighborhood or a building, does not mean that investment is right for you. To quote Frank Sinatra, if you can make it here….
What are your favorite things about the Ukraine?
This is a difficult period in history to be speaking about Ukraine and I would like to take the politics out of the conversation. I can only speak about Kiev, the city where I was born. It's a very beautiful city, very green, with wonderful architecture and warm and hospitable people.
When is the best time of the year to visit Kiev? What are some interesting places to visit in Kiev?
Anyone who was born in Kiev will tell you that the beginning of May, when the chestnut trees are in blossom, is the most beautiful time of year in the city. A visit to the Botanical Gardens and a walk through the Andreevskyy Spusk (Andreevskyy Descent) neighborhood to visit the birthplace of Mikhail Bulgakov are notable experiences. Kiev's Opera House http://www.opera.com.ua/en/ offers some of the most colorful and memorable performances in the world.
What is Ukrainian food like?
Ukrainian food is very hearty with a lot of meat and potatoes. Of course there is borscht, my favorite beet soup, and on occasion one complements it with a shot of vodka. Just like everybody who makes borscht, I have my own version of the recipe. Recently in New York, there was an opening of a Ukrainian restaurant called Taras Bulba http://www.tarasbulba.us/, named after the novella by Nikolai Gogol. The East Village neighborhood of Manhattan has a number of Ukrainian restaurants such as Veselka http://www.veselka.com. B&H on 2nd Ave off St. Marks Pl is a true tiny gem.
When you aren't working, what do you like to do for fun in New York?
I absolutely love film, live music, arts, reading and pretty much anything and everything cultural New York has to offer. There is nothing more intoxicating than a stroll through the city on a beautiful Spring day – admiring the architecture and the people.
Could you share with us how you first found out about EuroCircle? How long have you been a member?
I have been a member pretty much since the very beginning in 1999. A friend of mine knew Kaisa and invited me to one of EuroCircle's 1st events. At that time I was commuting between Chicago and New York for business and I suggested to Kaisa to perhaps start a EuroCircle chapter there as well. From then I introduced Kaisa to Maria Dollas who still runs the Chicago Chapter. I do remember flying to Chicago with Kaisa for the 1st EuroCircle Chicago event at the Redhead Piano Bar on 16 W. Ontario Str. It's still there.
How can our members get in touch with you?
My mobile is +1.917.952.3452 or you can drop me an email at victoria@halstead.com or look for me at one of the EuroCircle events. If you would like to receive a copy of my newsletter, please call me.
Connect with Victoria:
Victoria Vinokur @ Halstead
Call or text: +1.917.952.3452
Victoria Vinokur @ EuroCircle
https://www.eurocircle.com/euro/wp-content/uploads/member-of-the-month/2014/03/Motm-Victoria-Vinokur2.jpg
393
428
christophe
http://www.eurocircle.com/euro/wp-content/uploads/2014/06/eclogow1.png
christophe
2014-03-31 18:19:38
2022-01-10 21:41:49

New York – Victoria Vinokur, Real Estate Broker in Manhattan