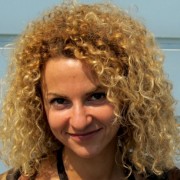 Tell us about yourself – who are you and what would be the short story of your life?
I am a molecular biologist grown up in sunny, chaotic Naples (Italy) and based in frosty, elegant Vienna (Austria).
What is THE thing/s about Vienna / Naples captivates you the most? If someone asked you what they should NOT miss while in Vienna what would reply? And what I really SHOULD miss….the only thing I recall about Vienna is that it was very beautiful, organized, great little cafes and lots of music.
The beauty of Naples lies not only in the sea and the sunshine, but also in the profound influence these wise elements seem to have on the its inhabitants. People in Naples share a deep knowledge of what life is all about: communicating with the world around us through the food we eat, the relationships we engage in, and the things we share with our close ones. This is what the sun and the sea whisper into our ears every day.
MUST DO IN NEPLES: Go and see the Amalfi coast, Positano and Capri. Eat a delicious pizza (Sorbillo is my favourite Pizzeria) and breath the endorphins in the air!
MUST NOT DO IN NAPLES: Don't go there culturally unprepared. Most people are so scared by what they read in the contemporary news that they forget (or maybe ignore) the historical richness of the city. They see only garbage, and miss the hidden treasures.
Of Vienna, I love the imperial elegance and the perfect organization, which makes life so easy and enjoyable. I love the warm summer days spent on the Danube or on some lake nearby. I love the culturally charged atmosphere and the aristocratic touch of the city, which makes me feel like a princess on my own kingdom.
MUST DO IN VIENNA: Christmas markets in December and trips on the lake in summer. Opera, concerts, and theater events.
MUST NOT DO IN VIENNA: Don´t be slow in packing your grocery at the supermarket cash desks or the disgusted expression on the clerk face may ruin your mood for the rest of the day.
Anything truly memorable that has happened to you since you have lived in Vienna?
In 2009 I won a competition for science communication in German and represented Austria in the International award ceremony, where I was awarded the third price worldwide. It was a great achievement for me, as I could not speak any German when I first moved to Vienna. My mother still keeps the newspapers reporting the news.
Where and how would you live in Vienna or elsewhere if money is not an obstacle – compared to how you live now or would you stay where you are? Why?
I have a dream of moving to Australia. It is like one of those vague dreams children often have. Children often don´t have any clue of how what they desire will truly be. They just know it sound cool and they want it.
Actually I have some reasons for this childish dream. Australia is a sunny country, it is organized and scientifically stimulating. In one world, it has the good sides of Naples and Vienna, without the negative ones!
What is important to you in your life. For some people it is expensive cars, clothes, apartment, lots of free time, parties – for some others it may be having a spouse and kids. Someone once said to me that every day when she wakes up and there is no war – she is happy. What makes Lucia happy????
Being on the move, both physically and intellectually. Continuously engaging my mind and my body in new challenges. There is only one "static" thing in life, which is very important for me: relationships and family. These are the only things that stay still in my world. They are my anchor, the origin and destination of all my peregrine trips.
What do you consider as your biggest accomplishments career-wise and what are your further goals?
A big accomplishment has been for me contributing to understand some very interesting processes happening in the cells of our body. In particular, I have discovered important details on how cells turn genes on and off. This molecular "switch" is crucial for our health and is disrupted in many diseases.
In addition, I am very proud to help spread the message of science to the broad public by actively engaging in science outreach activities at museums and science centres (http://www.science-center-net.at). Here I share my enthusiasm for research with young student to spark their interest in pursuing higher education (http://www.scienceclip.at/video.php?ID=320).
You are extremely well-educated which sometimes means that career kills your personal life to some extent, how do you handle that?
Balancing work and life is for a scientist a very difficult challenge. The way I approach it is letting my work and life merge together, but without feeling sorry for that. I enjoy what I do and my work is part of my life. This doesn't mean I have no personal life. I rather have an unusual, more holistic and less dichotomic idea of me as a person.
How would you like people remembering you? I am asking this as a friend of mine died this week of cancer and I had this discussion with you as he had thought about it quite a bit.
Many people want to be remembered for their achievements and positive sides. In contrast, people who truly love us tend to remember those small defects and big failures, which make us unique and adorable for them. This is the way I want to be remembered: as an imperfect human being, who has open his heart to other people, thereby transforming his manufacture defects into fine details of a memorable masterpiece.
Connect with Lucia:
at.linkedin.com/pub/lucia-aronica/3/3a8/b7
Video – Europe PubMed Central writing competition:
a2ucomp.org/story/i/
Video – Sexual healing in ciliates
www.youtube.com/watch?v=6sk1vOeTH_8
Science clip 2013
www.scienceclip.at/video.php?ID=320