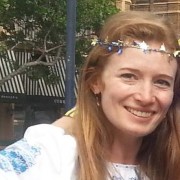 When I asked to interview Mira I did not know the situation in Ukraine will happen and I am very sorry it has gone the way it did. Having met people from both sides – I am relieved this is not happening in Finland. I am not sure how I would function knowing that my life as I know it is turning upside down.
Tell us about yourself – who are you and what would be the short story of your life?
I was born and raised in Ukraine. In 1995 I was fortunate enough to be selected for one of the first Student Exchange Programs between sister cities. My small town in Western Ukraine, Uzhhorod, was chosen as a sister city by Corvallis, Oregon. Every year 10 high school students are sponsored to come for 3 weeks to Corvallis to stay with American family. In exchange, 10 American kids come and stay with our families in Uzhhorod, Ukraine. Those 3 weeks in the US, as a 15 year old, made me fall in love with this country. After my return I continued studying English and seeking other exchange programs. Once again I got lucky, and in 1996 I was selected to study abroad in California for 10 months. The program was sponsored by the US organization Freedom Support Act and truly allowed me to experience the US. My host family, who were farmers, introduced me to a hard-working American farm life, and my small rural high school in Central Valley to American high school life, which included cheerleading, various field trips and a senior prom. I was allowed to graduate, even though I was only here for a year, which later gave me an opportunity to come back to college on a long-term student visa in August of 1998. Even though I had to leave my Law Program at Uzhhorod State Insitute, I have not regretted my decision to come to this country. 16 years later I am still here and now a proud American citizen.
After finishing my undergraduate degree at University of California, Santa Barbara, I lived for a few years in Oregon, and in 2006 moved to San Diego to start a graduate program at University of California, San Diego. I got my Masters in International Relations and the Pacific Studies and I have decided to stay in San Diego.
In terms of work, I am a big fan of startups and for the last few years I've been doing business development for two new companies, adaptiveARC, inc (renewable energy www.adaptivearc.com) and Viaway, Inc. (International media platform, www.viaway.com).
What is THE thing about San Diego captivates you the most?
This is by far my favorite city in the US, mostly due to the weather and it's proximity to the ocean, mountains, desert and Mexico. This city is catered to people who enjoy spending time outdoors. It allows you to play tennis in dozens of free tennis courts, to go surfing on many beaches, to jogging on the beach, to watching the most ridiculous sunsets. If you want some art and culture, you can take a stroll in our Balboa Park and visit over a dozen of great museums
If someone asked you what I should NOT miss while in San Diego, what would reply? And what I really SHOULD miss….
Wow, shouldn't miss… the list is so long, I can go on and on. Beaches, Torrey Pines hikes, Balboa Park, Coronado, biking around the bay, best grilled fish tacos at Oscar's, sunsets…
Should miss… may be our nightlife could be skipped, unless that's what you love to do. But if that's the case, you might be disappointed with our limited selection of great clubs, especially as a European you may not particularly love the club scene.
Anything truly memorable that has happened to you since you have lived in San Diego? What really annoys you about San Diego– or maybe nothing does?
Well, I have met my future husband and we are getting married in Baja California, Mexico in April of this year. I also became very involved in the local Ukrainian diaspora community through the House of Ukraine. I currently hold a position on their Board of Directors, which allowed me to be very active in the last few months with all the revolutionary changes that have been taking place in my homeland.
The only thing annoys me are tons of tourists in the summer.
What do you miss most from your country Ukraine…in addition to the family and friends? The current events in Ukraine must worry anyone from Ukraine – whether you are pro-Russian and pro-Ukraine.
I miss my culture, music, folklore, my language… Even though I am very fluent in English, I do feel like there are moments when I feel like I could express or feel something differently if it was said in Ukrainian.
The situation in Ukraine is definitely worrisome. I am very upset by recent events in Ukraine. I have many Russian friends, and this facts make it very difficult for all of us. I am really hoping for a peaceful diplomatic resolution to this conflict. We all do – where ever we come from.
When you think about misconceptions we all have about cities/people/countries – what do you think you misjudged about USA/San Diego and what is what people usually misjudge about Ukraine?
I don't think I had any misconceptions about San Diego, I knew what I am getting myself into. About the US, may be it was the image of regular Americans that confused me. The superficial warmth and smiling always made me think Americans were the nicest people in the world, but after living here for over a decade, I realized that it is very superficial, and Americans are just the same as the rest of us.
Do you have a favorite San Diego/area restaurant? Why….what is the good and bad about restaurant culture in your opinion in San Diego..or the life style in general
Too many to list, but do really love all the wonderful fusion restaurants that we have. Latin meets Asian meets California, only here I've see those. My favorite area is where I live, North Pacific Beach/Bird Rock. Those are my favorite beaches and sunsets.
Who are the most famous Ukrainian people…when I think Ukraine I think some ballroom dancers and Mila Kunis, but can not easily recall many others though I am sure I'd know a name if you said some names!!
Definitely soccer player Andriy Shevchenko, and our famous boxer Vitali Klitschko Klitschko (now politician and potential Presidential candidate) made Ukraine famous among sports fans. Many people ask me about our feisty former Prime Minister and a current Presidential candidate YuliaTimoshenko. And some Europeans may remember Ukrainian pop-star Ruslana. Her song "Wild Dances" was the winning song in the Eurovision Song Contest 2004
By the way, how is the international/Ukrainian community in San Diego?? I think it is easy for us to think you must have a lot of Mexicans/Hispanic and Asians compared to Europeans.
So the Ukrainian community is not that large, especially if you compare it to Mexican, Chinese or Vietnamese. But we are fortunate to have cultural center through the House of Ukraine (one of the International cottages in Balboa Park). There are many more Russians here, but not too many people know that there isn't Russian House. There are two Ukrainian churches that also bring some Ukrainians together. With the latest events more and more Ukrainian immigrants have been coming out and trying to get integrated into the local Ukrainian community, which is very nice. Last year I joined House of Ukraine's Board of Directors and it allowed me to be a part of many fun events.
Where and how would you live if not San Diego if money is not an obstacle? I heard the real estate market is kind of difficult there. How expensive is it to rent or buy….and what are your favorite areas??
It is very expensive, especially if you want to live close to the coast, which we do… Will we ever be able to afford buying something that we like here, I don't know, but we will do everything possible to do so.
What do you think about the cost of living in Ukraine vs San Diego– and the standard of life and life style?
Well, I never had to rent/buy in Ukraine, since I still lived with my family before I moved here, but I do know that it's even harder to afford something in Ukraine. Many of my friends live at home into their 30s, married and with kids… The US is much much more affordable, due to fair wages. Ukraine is still very much behind, that's why corruption is so prevalent. Wages are not sufficient for most ordinary folks to have adequate standards of living.
If you could change something about San Diego– what would it be? How about Ukraine??
About San Diego, I'd improve inadequate public transportation, which would reduce the traffic problems. For Ukraine I want democracy, freedom of speech and expression, and independence from outside interests, Russian or Western. I just want my country to be happy and free and an equal participant in this global world.
Anything else you feel you'd like to share with us about Yourself, Ukraine or San Diego??
I'd like to let all the non-English speakers know about the smart-TV platform I used to work for, Viaway. If they currently don't have access to channels and movies in their native languages, this is a good place to look. We have German, Dutch, French, Polish, Romanian, Indonesian, Indian languages, etc. It's like Netflix but for foreigners. Especially Russian and Ukrainian packages feature over 100 channels, and thousands of movies. If the readers connect through my link my link, they can get 2 weeks watching, otherwise free trial is only 3 days.
Connect with Mira:
www.facebook.com/mira.mendoza1
Video by CBS about San Diego Ukrainian rally:
www.cbs8.com/story/24796080/local-ukrainians-and-supporters-rally-for-peace