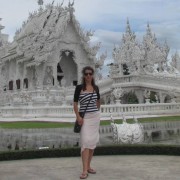 I am always looking for people to interview in Vienna and was super happy to find Oana who is originally f
Tell us about yourself- who are you and what would be the "short story" of your life?
My name is Oana Vasilescu and I come from Bucharest, Romania. I studied International Business at the Academy of Economic Studies in Bucharest, Romania. I benefited from a time with lots of opportunities for Eastern European Students to study abroad in early 2000s. Being friends with one of the best students at my university, who had an entire list of scholarship possibities, abroad, I could live the "dream" of any student: pick the top university of your choice, receive a scholarship and go study there. My life has been a chain of happy coincidences. I came to Austria, thanks to a Summer University at the WU (Vienna University of Economics and Business). I really liked the international study atmosphere- even if at the beginning I hardly understood at the beginning the typical Viennese pronunciation and dialect. I fell in love with the WU library with an immense number of books for the same subject. Whereas at my home we had to stay in line for weeks to get the latest edition of any course book in English from the library of the neighbored British Council, the WU library felt like paradise. The happy coincidence happened just one hour before I was leaving back home from the summer university.
Wanting to thank the organizers, they offered me the possibility to apply for a study program called JOSZEF. I filled out the necessary paperwork without any expectation of being accepted. I went back to Romania, finished my university education and – surprisingly for me – received an acceptance letter from the WU.
So I came to Vienna with no specific reason, other than do what I liked most, which was to study in one of the top economic and intellectual environments. I could not have imagined it to have been different.
I stayed after having received a second scholarship for studying Quality Journalism and receiving the first employment opportunity with the Danube-University in Krems.
Do you think living in Vienna in any way enhances your work and life experience?
Vienna is one of the best places to live and work, a true "village", small but diverse, highly accessible thanks to great public transport infrastructure, safe and conservative. It has a slow life rhythm, which relaxes. It is a quiet city, with little noise level. One hardly hears noises on the tram – people are very cautious when speaking to each other they are rather quiet. People are very polite and helpful when asking for directions on the street. It is a clean city compared to any other European capitals.
Working here adds the internationality to one's CV. There are international organizations and companies that benefit from top trained and skilled people. Work culture is different than in Easter Europe. People are more relaxed, are not measured by the number of extra hours they work, competition is not always that fierce as in Eastern Europe. The Austrian economy does no longer need to overcome lack or underdevelopment; it had already reached its peak and enjoyed stability for a long time. Therefore, there is a general attitude of "things will work out in the end" that may come from a past in which people had in general all that they needed. In Eastern Europe people are still very worried about their lives and jobs, which is less the case in Vienna. Not hit by recession as hard as Eastern Europe, Austria benefits from an economic situation with less volatility and uncertainty.
What is THE thing about Vienna that captivates you the most?
One can visit Vienna in a couple of years from now and still find his /her ways. Whereas radical change is not really welcome, this makes the core of the city to stay same and gives it a special charm. It is a city that stops in time, still letting change (e.g. in architecture) happen. It is impressive how buildings facades are kept clean and maintained from year to year. So what really captivates me is the mixture of change whereas the core stays same.
If someone asked you what I should NOT miss while in Vienna what would reply? (food, experience, scenery, music…)
Vienna is the place to be for all types of experiences, from culture to food and sports. In terms of culture there's the State Opera for classically staged operas, the Theater an der Wien for modernly staged baroque opera. There are a number of museums that are worth visiting and still not that well marketed like the Bezirksmuseen.
Thanks to the diverse landscape and the fact that Viennese people are interested in keeping in shape, the sport lover has lots of options: row in one of the rowing clubs at Alte Donau, run in the Prater, wakeboard on the Neue Donau, play beachvolley and swim in the Danube, bike and mountain bike on one of the Viennese "mountains" that are only 300 meters high . In spite of the lack of a proper sea, Vienna is the place to be, the Danube and the Danube Island compensate this.
What do you do in Vienna when you feel like you just want to chill out?
In summer the city can be best viewed from one of the heuriger on the Kahlenberg. The heuriger are places where one can simply take the refuge into the almost peasant life, where life seems to take place as it is supposed to be. These places are idyllic, picturesque and make one feel good. In the city, I especially like the coffee houses with live piano music like Diglas. There is a special "homelike" atmosphere that one gets to taste together with a good coffee.
Anything truly memorable that has happened to you since you have lived in Vienna?
I found it really flattering that once in the Burggarten, amidst wonderful roses, a couple of American tourists asked me to sing for them. I wondered why and they told me that they saw me on stage last night. I realized that they mistook me for Anna Netrebko. This could not have happened anywhere else but in Vienna, I think.
What really annoys you about Vienna – or maybe nothing does?
This might sound funny, but around the Stephansdom the "perfume" of the horse carriages is something that can be appalling to tourist. For a country with a great waste management programs, neutralizing the smell from the horse pee in the city center could be something to be improved. With this one exception, there is something about this city that never makes you want to leave. The city has a certain retaining energy, once you come to leave here, you stay.
Do you have a favorite Vienna restaurants/areas/places and why? What do you think about the typical Austrian/Viennese food and cuisine in general…what stands out for you?
In terms of food and drinks one should not miss the "Stelze" in the Schweitzerhaus in Prater, the "Tafelspitz" in Plachutta, the Eismarillenknödel in Tichy in summer and of course the coffee in any Viennese coffeehouse (e.g. Hawelka).
Do you miss something from Romania in particular? And is there something you really would like people to know about Romania/Romanian people and culture?
I miss most my family and friends. I miss the Romanian spirit of making jokes even in the hardest situations. The Viennese mood is different, a bit black and with a morbid tendency. In Romania, no matter how dramatic things are, one's outlook on life is that he/she can find the way out. I miss the Romanian humor and creativity, optimism beyond anything. The Viennese humor is more cynical and closer to the British one. There are however lots of other Romanians in living and working in Vienna, we have restaurants, churches and other places of encounter, so this makes me miss my country less.
What do you think about the cost of living in other countries vs Vienna– and the standard of life and life style?
The living standard in Vienna is still very high, whereas the cost of living tends to increase each year due to real estate prices. The quality of service and the diversity of activities that one can embrace make Vienna a really great place to be.
What do you think about the cost of living in other countries vs Vienna– and the standard of life and life style?
At times I miss a special progressive spirit e.g. in modern art exhibitions and clothing style. While Austrians in general admire Italians, they also reckon that in fashion, whatever is new in Milano this year arrives in Vienna three years later. At least some Austrians told me so.
I miss therefore the quest of excellence and progressiveness, the spirit of grandeur of other European capitals.
Curious what is the biggest misconception/s you think people have about Vienna (or Austria/Austrians generally vs. Bucharest/Romania/Romanian people?)
Many foreigners – especially with little education level – come to Vienna without a working knowledge of German, thinking that they can get a job without working level of German. Knowing German and understanding Austrian culture play however a very important role in getting a job.
Anything else you feel you'd like to share with us about Vienna or yourself?
Vienna could be described as a very well kept beautiful lady, once a beauty queen, and now quieter, balanced, but still young at heart. It is a city one can learn from, to grow and develop oneself in beauty
Connect with Oana
Facebook: www.facebook.com/oana.simina79/
LinkedIn: Oana Vasilescu