EuroCircle Houston March Happy Hour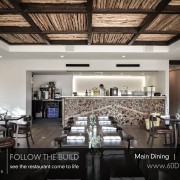 Come join us for a casual cool happy hour on the patio at 60 Degree Mastercrafted. Just opened last fall, the restaurant/bar offers high end beef. And it's signature menu item – the $200 burger with an edible 24k gold bun – is for the adventurous and supreme meat lovers.
Note: EuroCircle members, extended happy hour specials last til 9 pm and complimentary appetizers will be served.
Invite your friends and we'll see you there!
Shahla, MaryBeth & Houston Team