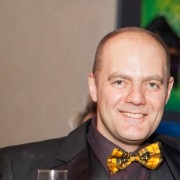 Last year a bunch of veterans (United States Marine Corps) started a new elegant jazz lounge in downtown Austin. EuroCircle was one of the first groups to have an event there. The lovely and talented SILVIE RIDER (Switzerland) performed with her pianist husband Red Young at the piano. Manja Hossa (Slovenia) from LePA Skincare sponsored appetizers for EuroCircle members. One of the veterans running the club is a fellow European so how about saying hello to "Gene" from Bulgaria (Evgueniy). Jason (Jace)and Gene and their team a re really great people.
Please introduce yourself!
Evgueniy Todorov, known to all my friends as Gene; I was born and raised in Sofia, Bulgaria, graduated with BA degree from the "Karl Marx" Economic University; renamed after 2001 to Sofia Economic University and MBA from Herriot-Watt University, Edinburgh, Scotland. Spend most of my time in San Diego, CA, and finally found home in Austin, TX; drawn to Austin primarily for its cosmopolitan and diverse society, live music culture and lay back and friendly attitude. Co-owner and manager of the Brass House, a Jazz Lounge and Blues Tavern.
When and why did you move to USA, where have you loved after that – how did you choose those cities/career?
Moved to the USA in 1991; at the end of the transformation of Eastern Europe from Communist Rule to Democracy. Initially arrived in LA, yet moved soon sought to San Diego.
Is your family in military or restaurant business?
No, I'm the first in both. I started my Military Career on a whim and ended up doing full 20 years of service, retiring last July from the USMC. My initial plans was to travel around the world for a while, but ended up opening the Brass House – a live Jazz Club in Austin.
What kind of music is your favorite?
I love just about any kind of music; obviously, Jazz and Blues are preferred stiles, but I also love Rock@Roll, Country, Alternative, Classical..etc. etc. I believe music is capable of opening borders and bringing people together, regardless of their ethnic, cultural, racial or religious background.
How was it being in the USMC – what did it teach you (good and bad)?
Life in the Marine Corps taught me a lot of things, mainly about myself and what a person is capable when he puts his will towards an end. It was never easy, but the shared hardship builds character and friendship bonds that lasts a lifetime.
Do you try to go back to Bulgaria every year? The language and the culture are different than in TX for sure. What do you miss the most – and the least?
I try to go back and spend time with my parents at least twice a year, particularly Christmas and Easter. Spending time with my parents and friends is important and enjoyable; wish I can go more often.
When you think about what did you think about life in Bulgaria vs USA before you moved to the USA – did you have misconceptions that turned out to be wrong?
Haha no misconceptions, since I did not know what to expect. But my Dad still thinks that everybody in USA wears a cowboy hat!
What is your favorite food/s and drink??
Everything! I enjoy all types of cuisine. I do try to promote various different dishes from around the world in the Brass House Tavern, just so people in Austin can enjoy the richness and variety of European cuisine.
How is the Bulgarian community in Austin vs. USA?
Hmm, I don't know any other Bulgarian in Austin…
What would you like anyone know and appreciate about Bulgaria? Would you ever return to live their fulltime?
Small, but beautiful; it has a lot to offer in terms of culture, history, tourism and entertainment: from live concerts, lovely summer beaches at the Black Sea or majestic skiing mountain slopes in the winter. The most interesting is the cuisine: a healthy mixture of Eastern Slavic foods, central European meat dishes and many Mediterranean meals.
Could you share with us what are your team's plans for the BRASS HOUSE?
Well, our initial concept was to offer a classy and elegant venue for life Jazz for the jazz fans in Austin. We felt that there is a greater demand for such a venue and we were right; in a few months we developed a large and dedicated clientele, who loved the elegant surroundings, crafty cocktails and martinis and the best of Austin Jazz musicians on the stage.
Recently we expanded and opened the Brass House Blues Tavern, adjacent to the Jazz Bar, providing yet another venue for Austin music society. And as we keep all the Jazz at the Jazz Lounge, at the Tavern we feature Blues, Bluegrass, Alternative, Country and Rockabilly bands. There is a great patio that links both sides, allowing our patrons to move freely between the Jazz and Blues stages and enjoy both bands in the same night. With the addition of a full kitchen and an excellent Italian chef, we plan to provide the Austin dining community with a variety of Mediterranean cuisine, creating a fine dining venue with live music shows. All in all, the intent is to excel in the two fields that cross borders and bring peoples together: music and cuisine , as well as handcrafted cocktails, martinis and specialty drinks.
Another intent is that we wanted to assist the Veteran society in Austin by any way possible: about 30% of our staff are Veterans and we host numerous non-profit events for Veteran foundations. We also host at least one non-profit event once a month for local Austin charities; recently we hosted a fundraising event for the Children with Altruism Foundation. We strongly believe in supporting and giving back to the community.
And last but not least, we like to promote and support the music society in Austin; we believe that group is what makes Austin unique and beautiful. We like to think that the Brass House Jazz lounge and the Blues Tavern can serve as a patron for the Arts. And we strive to bring the best of musicians that Austin has to offer as well as promote young and inspiring musicians.
Connect with Gene:
www.BrassHouseaustin.com
115 San Jacinto Blvd, Austin, TX (just about 100 m, from Four Seasons)