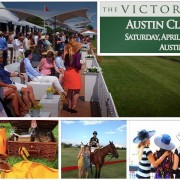 EuroCircle Austin is proud to co-host for the 3rd time the Victory Cup Austin Classic. Polo Party.
www.victorycup.org
Dubbed "The Best Party in Texas" this exclusive gala event will be held at the manicured polo fields at Austin Polo Club, the same lovely venue as the Gatsby Polo Party in 2013, about 15 min from downtown Austin.
Come join us for a gorgeous day of majestic horses, beautiful people and heart pounding polo at the Victory Cup on April 25th! The polo match consists of games featuring the UT Polo Team and Texas A&M and includes other events:
– Classic & Luxury Car Show
– Art Show in the VIP Tent presented by Big Ass Canvas
– Feature Polo Match: Texas Polo Team vs Aggie Polo Team
– Best Dressed Contest
– Fashion Show in the VIP Tent and Society Row
– Exclusive After Party (more details to follow)
Additionally, Dell Children's Hospital is the premier philanthropic partner.
****EC Austin member can avail of an exclusive promo code CUATRO when buying tickets at the ticketbud site for a discount! *****
For more details please visit the website: www.victorycup.org
Adnan Khaleel and Cuatro Tolson