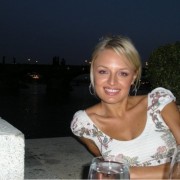 1. Please introduce yourself.
My name is Michele Aubry (Michele Ubryova) and I was born and raised in Prague, the Czech Republic. My mom and I moved to Austin in August of 2000 for her now ex husband. The rest of our family still lives in the Czech Republic.
I am a Licensed Marriage and Family Therapist in private practice here in Austin, TX and I have a son, Maxx, who is 3 years old.
2. When/where did you move to USA – how did you choose those cities/career?
cities/career? We moved when I was 16 years old straight to Austin where I finished high school and then I moved to Santa Barbara, CA to start college. I moved back to Austin a year later and have been here ever since. I finished school at UT of Austin.
3. What did your family do and where are they now?
Now? My mom worked as a paralegal in Prague. In Austin she has worked for Saks Fifth Avenue and now Neiman Marcus since they opened their doors at the Domain.
4. What is important to you in life – money, freedom, food, family, hobbies, friends, travel — Why? Since you are more multicultural in my opinion you may have more varied likes/dislikes.
I grew up traveling all over Europe and I see how much those experiences taught me and enriched me. I was raised eating healthy food and spending time with friends. A deep friendship is something that I value highly, especially because it has been harder to find here. I see money as a means to security and something that I would like to have enough of for traveling purposes, so I can continue adding on new experiences.
My hobbies are fitness and food. I love to try new food and I very much enjoy cooking various types of cuisine!
5. Do you try to go back to Europe every year? The language and the culture are different than in TX for sure. What is home for you outside US, What do you miss the most – and the least?
I used to go back to Prague at least one a year but ever since I had my son, I went only once. Traveling with a toddler alone is not on my list of desired things to do. I miss seeing my family more often but nowadays, skype and Facebook make it easier to talk, see each other and share. I still speak Czech at home with my mom and my son.
We don't miss the food much but we do miss walking around, we miss the architecture and ease of public transportation. One thing we don't miss a bit is the jealousy and negativity that is now obvious to us – but was not when we lived there.
6.Workwise – how do you see Europeans being different from Americans – also culturally, what stands out in your chosen profession? You studied psychology. I lived 17 years in Manhattan. I recall thinking there how many people were super neurotic. I have been to dates where the guy tells you if you do have a therapist or have had some type of psychotherapy/analysis you have a problem! I prefer talking about my problems with friends and family though I am sure there are times we all could use a therapist (major changes in life, drama, illness, loss of job, death).
First of all, psychoanalysis is a type of an approach to therapy and is quite outdated nowadays. Psychotherapy however, is something that has bad stigma in Europe and it makes me quite sad. Most people don't understand the difference between the roles of a Psychiatrist and a Psychologist, or a therapy. Truly, I think that we all can use talk
therapy as some point in our life, whether it is to resolve unfinished business or to make a positive change that will help us reach goals and feel happy.
Therapy is not for CRAZY people, those are referred to a Psychiatrist who is also a medical doctor.
Note by Kaisa: I have a friend – Dr. Byron Wilkenfeld, who is a psychiatrist here in Austin – a brilliant man, a very interesting topic to discuss the use of meds in the USA with him.
7. When you think about life in Europe (the CR) vs USA before you moved to the USA – did you have misconceptions that turned out to be wrong?
I saw on TV as a teenager. I moved from Prague to Austin. It was a culture shock and a huge surprise. I have also never seen so many homeless people and that was very shocking because people always spoke of USA as the country of the rich.
8. Is there something with the American culture or customs that you think Czechs you learn from – and vice-versa?
I think Czechs could learn from Americans to be more optimistic and more friendly towards strangers. Also, philantrophy is something that I would like to see more people in the CR do. What I would like for the US people to learn from Czechs is to work to live life, not to live to work mentality.
9. What is your favorite food/s and drink?
Sushi and wine. I could have that every day.
10. How is the European/Czech (your country's) community in Austin vs. USA? Who do you think are the Czechs the average American may know?
The Czech community here in Austin is actually quite large. I started a Czechoslovakian group on FB few years ago and at our last Easter get together, there were around 60 Czechs I would say. Many of us have blended in this culture and enjoy this place for what it is. Many go back to the CR on regular basis to see families but I think that except our accent, we aren't so different from the locals. Maybe, we are quite a bit more direct with others;-)
11. What would you like anyone know and appreciate about your country? (food, music, culture, people, history….)
I personally don't care for Czech food but I have adopted the gluten free dairy free diet for personal beliefs. However, I do think our pastry is outstanding. The architecture and the way the country preserved that over all the years is admirable.
We Czechs make very loyal and trustworthy friends, I believe.
12. Would you ever return to live there full-time?
No, I would not, but my mom is also here with me so that makes my decision much easier. I lived there for 16 years but I have been here for 14 years now, so I have had time to build relationships here.
13. Could you share with us what are your plans for the future? What is it in life that makes you happy or content – that means different stuff for all of us.
In the very near future, I would like to continue growing my private practice and present on the topic of happiness and success. Throughout my journey of coming here in my teens, my marriage and divorce, my motherhood, I have found myself in the study of happiness and what drives us and makes us more resilient. I would truly enjoy reaching a larger audience
to share my knowledge and personal experience. And as a mom, I would like to focus on being the best I can be to help him achieve his full potential and help my son Maxx grow into a warm hearted, respectful man.
Connect with Misa (Michelle):
micheleaubry.com/
Misa at Facebook