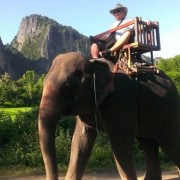 Traveler bio: Born and raised in Sofia, Bulgaria, Alex is an IT Consultant who lives in Aspen, Colorado. His career takes him to exotic locations like Dubai and the metropolises of south-east Asia.
Alex has joined two EuroCircle trips thus far, Peru, 2012 and Cambodia & Vietnam, 2013. This year, we look forward to catching up with him in India, 2014.
1. Having traveled with you for a couple of years now, I can safely say that you are one of the most jolly travelers we have had so far. You are always so relaxed and easy-going. What's your secret for dealing with a big group and a tight itinerary?
Vodka.
2. Peru was a tough journey for most of the members. We traveled two days to reach Machu Pichu, then battled altitude sickness in Cuzco. Yet, you were the only one who was unfazed by the ordeal. How did you keep your cool?
Pisco Sour.
3. Asia was a big change for Eurocircle Travels. Not only was it a longer journey, but our travel style changed to make the itinerary exclusive to Eurocircle members. As a result we spent much more time together as a group. What did you think of the itinerary?
I liked it very much. For me Vietnam with its communist points of interest was the weakest link in the trip. But the boat trip was one of the highest points. I guess there was a good balance.
4. If you could change anything about our trips, what would that be?
I would do some screening on new people. The Asian trip had a couple of "difficult" people, who were not so pleasant.
5. I'm a bit anxious about taking the members to India this year. It's an even tougher journey, and I'm worried how members will adjust to seeing all the poverty there. Do you have any travel advice for people visiting south-east Asia or India for the first time?
I would recommend if possible to stay away from the slums. The site of misery can be quite shocking for ordinary Americans. If there is no way around it and the slums are a must part of the trip, I would recommend for us to see some movies on the subject. For example the Slum Dog Millionaire or Black Cat White Cat can be a good start. Or maybe if there was one of those euro-circle gathering that includes an hour of a National Geography channel Indian Poverty series preview could help. Even if there is no organized preparation event you might send a link to the group. With the google results of "Preparing for a trip to India" search. You will be surprised what comes up. The list of references goes pretty deep.
6. You are a quite a globe trotter yourself. I always wonder what compels a seasoned, independent traveler to join a group. Enlighten me.
I usually travel on business with some delivery responsibilities. Joining a group of cool people and going to places I have not been before is quite an adventure. Since my wife does not like to travel it would be very difficult for me to find company for a trips like that.
7. What do you look forward to the most from India, 2014?
I am working with a lot of Indian Technology people. In this sense I will be looking forward to learn how to recognize their cast in the society. I guess there might be a way by their names to recognize which part of the country they come from and which cast they might belong to. I am also very interested in the Hindu and Buddhism. My personal philosophy is very much aligned with the Buddhism philosophy. I believe that our souls are borrowed or leased for the period of life time. I will be looking to get more inside while visiting India.
Alexander at Facebook
Alexander at EuroCircle
EuroCircle Travels is an annual program, that takes our members on a global adventure. So far, we have explored the silk markets of Istanbul, trekked to the top of Machu Pichu, raced tuk-tuks in Siem Reap, Cambodia, and sailed down Halong Bay for an unforgettable experience. If you would like more information about our upcoming trip to India, please E-mail Me ASAP!
As a perk for all Eurocircle travelers, we have condensed .pdf travel guides. They are easy to read on your mobile device, and best of all, they are FREE for all Eurocircle members.
To obtain a copy, let me know your destination, and your e-mail address, and I will forward a copy to you. (E-mail Me Your Request with all details)
Looking forward to traveling with you,
Sherry Kumar
E-mail Sherry