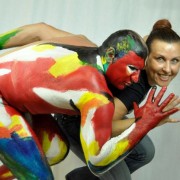 Please introduce Yourself.
My name is Inna Race; I was born and raised in Minsk, the capital of Belarus. Ever since I can remember, I have been creating Art; because, as one wise person said, "The 'Earth' without 'Art' is just 'Eh' ", and I completely agree. Now my job is "Turning People into Masterpieces'.
Tell us a bit about yourself and your artistic journey.
I remember my childhood as my always being surrounded by colored pencils, charcoal, and clay. I was always busy either drawing, going to art schools, or preparing for an upcoming art show. Then came the intensive task of applying to one of the former Soviet Union's finest Art Colleges. I was lucky to earn my Master's Degree in Graphic Arts and Mass Media from the best art professors at the Belarussian Academy of Arts (Minsk, Belarus). Later, I became involved in a number of great projects organizing advertising campaigns for dozens of companies and talented musicians (setting up stages for their shows), TV studio productions, designing holiday decorations for our beautiful city's streets and parks… The list goes on. It was fun; my art always gives me a chance to meet unique, talented people and see interesting places. My parents gave me life; Art let me live it, as I do, right now.
What did you do before launching your own business?
Experimenting, Learning, Listening to advice from smart people, thinking how and why I want to do things my way
Where do you find your inspiration?
My Inspiration is mostly People. I love people-watching, because I learn so much from it. I often try to guess their personalities and see the world through their eyes. It's like a game for me sometimes—a learning game, where the result would inspire my next project.
Describe your fantasy project?
I would love to work with someone as open-minded and adventurous as Lady Gaga or Pink. I would love to hear from them what I usually hear from all my clients: "Just do your thing… I trust you!"
What has been your biggest struggle as an artist?
As for all of us, it always takes time to realize who we are and to have others respect for that special quality, whatever it is. As an artist, I believe it's very important to find out for yourself just how different are you from everyone else and keep proving it throughout your life; keep people being interested in who you are and what you are going to do next.
What advice would you give to a new artist?
Never take criticisms personally. Learn to love being criticized by Professionals. (It's constructive!) Cherish the fact that a pro has good advice to share with you. Learn. Learn from the best. Never say no to an opportunity of working with somebody, whose craft you respect, even if the work is for free. You can learn from that experience. To see the master in action is priceless. I already invested so much in my education.
I still am investing and will never stop
How do you manage all of your personal and professional life?
I learned early in life that in my case, "working to live" is much better than "living to work". There are often too many instances, when I need to work 24/7, but I always make sure to reward myself after one project is over. My best reward is fun time with my family. I often have my business trips turn into romantic journeys. Last year, I was lucky enough to travel the world and mix work with pleasure. It takes a lot of planning, but it's doable–and fun (even if it keeps my saving account empty).
How would your professional life as an artist be if you were still in Belarus?
Honestly, it's very hard to tell. I was leaving Belarus, when my career was at its peak. I had to leave a lot of prospects and famous, powerful clients behind. It was 18 years ago, when the economy and political situation were better. Everything has changed since then. I cannot imagine, where I would be there right now. But I never regret leaving it all, moving to America, and starting from scratch.
Have you had much experience with EuroCircle (member since 2012), how did you find out about it etc…what ever suits)
I feel very fortunate to be a part of the EuroCircle community. My friend– very talented artist, herself– invited me to a party she was hosting, a few years ago. I loved it. What's not to like? Intelligent, gorgeous, talented people getting together, and having fun, while making friends and business connections.
Connect with Inna:
InnaRace.com
Inna @ EuroCircle
www.youtube.com/SalonStage