EuroCircle Art Opening with Lilliana Didovic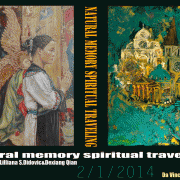 EuroCircle Art Opening with Lilliana Didovic
Join Eurocircle as we explore the exhibit NATURAL MEMORY AND SPIRITUAL TRAVELING by two artists Lilliana Didovic, an expressionist, and Dexiang Qian a traditional painter.
Born in Croatia, and having escaped her homeland of Bosnia in 1992, Didovic was granted political asylum in USA in 1995. Here, she has won numerous awards and established herself as a true Philadelphian artist through countless solo and group exhibitions. She currently serves on the Board of Directors at the DaVinci
Art Alliance.
From the opposite side of the globe, we present Dexang Qiang, from the city of Hunan, Zhijiang. He is a former professor of Fine arts from Hunan Normal University, and the current president of American Association of original artists. He divides his time living in China and Philadelphia.
In his beautiful traditional oil paintings, Dexiang will paint Philadelphia images with his native China in his heart. Lilliana's paintings make connection between three cities that have influenced her life, Šibenik, Croatia, her home city of Sarajevo, Bosnia and adopted city of Philadelphia, USA.
Our evening begins with wine and light hors d'oeuvres. We will have the pleasure of meeting both artists in person, for an in depth view of their collection.