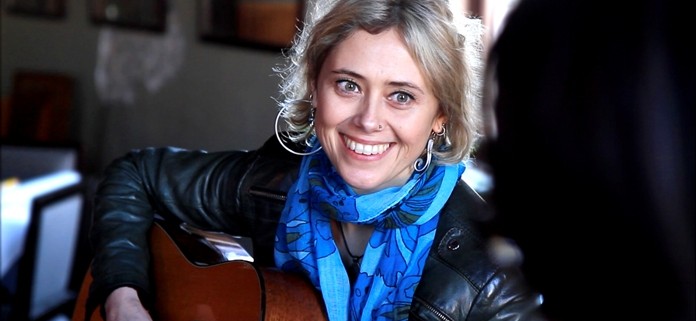 Giulia Millanta – Italian Singer-Songerwriter from Florence Creates Beautiful Music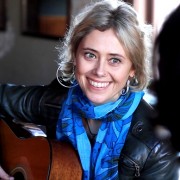 I love featuring European singers and authors – and I have really missed meeting more Italians. When I lived in NYC I knew some many Italians as there is such a huge Italian community there. Not to mention that I have visited Italy multiple times.
Please tell us who you are?
Ciao! My name is Giulia Millanta, I'm from Florence, Italy but I now live in Austin, Texas. I'm a guitar player, singer and songwriter. I'm about to release my fourth album, "The Funambulist"this March. I launched a Kickstarter campaign a couple of weeks ago to raise money to independently release it.
I'm also an MD …yes, you got that right…I'm a doctor in medicine but never practiced a single day as one…I've been now a professional musician for 5 years.
When and why did you start playing/singing – and which instruments do you play?
My Dad, a professor at the University of Florence, used to play guitar (he owned 11!) and he taught me a few basics when I was about 9…from that moment on I kept playing, off and on, my whole life. We used to sing together traditional English, Spanish, and American songs. I play guitar and ukulele and, of course, I play my vocal chords 🙂
What was the first tune(s) you learned?
Scarborough Fair. I was 5 years old. I even have a recording of it, on cassette!
Is your family musical? Describe your family member's musical interests and abilities.
As I said, my dad used to play guitar and sing..he also could whistle very loud! My mom used to play piano and my sister flute. Even though they were all very talented, none of them has ever been a professional musician. I'm the only one in the family.
Which famous musicians do you admire? Why?
Well..the list is long: Mozart, Bach, Beethoven, because they were geniuses and they contributed hugely to what music is, these day! I've love Neil Young since I was a teenager..I thought for a while he was my soul mate! I could always relate to his lyrics, the depth and soulfulness of them, the desolation and loneliness that his imperfect and yet beautiful voice evokes in me.
Recently (a couple of years ago) I fell madly in love with Tom Waits. My ears can never get enough of his music. It's always new. There's always something to discover, a little detail that reveals itself even after the millionth time I listen to his songs.
What are your fondest musical memories? In your house? In your neighborhood or town?
Of course playing and singing with my father and my sister. I remember watching my dad playing in the living room, with a cigarette in his mouth at the end of the day. Later, by becoming a musician myself, I had the privilege to travel and share my music with people from different parts of the world. That's the best thing about music: sharing it.
Were you influenced by old records & tapes? Which ones?
We had lots of vinyl at home: Pink Floyd, Simon and Garfunkel, Joan Baez, Al Stewart…I wore them out!
Have you been in competitions – they are not for all musicians? Any prizes?
I don't really like competitions. Music is not about winning something. And also, is there a meter to judge music? It's so subjective…
Having said that, yes, I've been in a competition in Italy at The International Acoustic Guitar Festival and I won prize as best emerging songwriter.
Where do you perform in public? Concerts, radio, TV?
I perform mostly in Austin, at the moment and Europe. I am about to release my new record and go on tour in Europe next March.
In Austin I'll have my CD release concert on April 12th at Strange Brew, 7pm.
How do you balance your music with other obligations – mate, children, possibly another job?
I don't have a job, music is my job, is how I make a living and is also my full commitment. I don't have children. I have a partner who is a musician as well and that makes it easier.
Do you spend time every year in Italy?
Yes I do. Italy is my home and I love it and miss it when I'm away for too long.
So, I try to go back at least once a year, to spend time with my folks and tour. This March I'll be in Europe for a month, touring in Holland, Sweden and Italy. Can't wait!
Could you share with us how you first found out about EuroCircle
I got involved with the Italy-America Chamber of Commerce and through them I discovered you guys! Also, when you are far from home you feel the need to connect with your folks!
Connect with Giulia:
Kickstarter campaign: www.kickstarter.com/projects/giuliamillanta/giulia-millantas-concept-album-the-funambulist
Website www.giuliamillanta.com/o
Website www.reverbnation.com/giuliamillanta
Facebook: www.facebook.com/pages/Giulia-Millanta/
https://www.eurocircle.com/euro/wp-content/uploads/interview/2014/02/Interviews-GiuliaMilanta.jpg
389
696
christophe
http://www.eurocircle.com/euro/wp-content/uploads/2014/06/eclogow1.png
christophe
2014-02-20 20:44:46
2022-01-10 21:41:50

Giulia Millanta – Italian Singer-Songerwriter from Florence Creates Beautiful Music