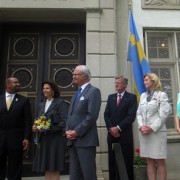 I wanted to feature Lotta Nordin from Sweden (pictured above all the way on the right) – being from Finland myself makes me feel closer to my country to interview people from Scandinavia/Baltic countries. By the way, the members in Philadelphia should suggest EuroCircle who should be interviewed or let us know if we can interview you. All different countries in Europe is a lot of diversity.
Could you tell us about yourself ? (who are you, where are you from, what did you study, all the usual stuff that one wants to know to get a little elevator speech about you)
My name is Lotta Nordin. I was born in Stockholm, Sweden and grew up with my parents and two siblings in a suburb just outside the city. After high school I worked for six years, first as a lighting planner and then as a project manager for establishing new stores at a Swedish retail chain. I also lived for a few months in Winchester, England, as an Au Pair and that's when I got hooked on living abroad. When I came back to Sweden I started studying Marketing, PR, Communications and Graphic Design at Linköping University, a couple of hours south of Stockholm. My last year, which was 2011/2012, I did a study abroad exchange in Singapore which was one of the most enriching experiences of my life.
Then back to Sweden again last summer, but I only lasted 6 months before I felt the need to move abroad again. That's when I found a trainee position within Marketing at the Swedish American Chamber of Commerce as well as one at the American Swedish Historical Museum in Philadelphia. I applied, got them both, and worked out a deal where I could split my time between the two. This was in December 2012, since June this year however, I have been full time at the museum as a Marketing Assistant.
What is your typical day like in Philadelphia? Work and personal…
I live in City Center South and usually ride my bike down to South Philly and the FDR Park (close to the sport arenas) where the American Swedish Historical Museum is located. The days at the museum varies a lot, since we are only 6 full-time employees you really have to be able to wear many different hats. But that is part of the charm. My job scope includes everything from PR, graphic design, social media, web, photography, event planning, translating and fundraising to help out making waffles for the Swedish Waffle Day event. Some days it can be anything really. The museum does a lot of events based on Swedish traditions and holidays like a Midsummer fest, a Meatball contest, a Swedish Christmas dinner, and a really wonderful Lucia Fest and Christmas Market that will take place on December 7 this year.
What challenges did you face when you first moved to Philadelphia and how did you resolve them?
It was a relatively big contrast moving here from Stockholm, Philadelphia is a bit rougher. My first day for example, I got pick pocketed in the subway, which has never happened to me before even though I have traveled quite a lot to various countries. It was annoying of course, but especially since my phone for some reason didn't work in the US at the time either. So at that moment, in a new city without cash, credit cards or a phone I felt pretty vulnerable – but it didn't take long to solve. Other than that it has just been small things like to figure out how an American vacuum cleaner works, that the bus stops don't have schedules on them, and that I have to tip more frequently here than in Sweden. But I actually haven't encountered that many challenges, most things tend to work themselves out pretty easily, especially if you aren't afraid to ask when you don't know.
Has your experience in Philadelphia been vastly different from what you expected compared to for example life in Sweden or other countries you have lived in?
Naturally, there are some differences. Sweden is a socialist country (at least comparing to the US) with free health care, schools, universities, and a much bigger social security net. And I knew this before of course, but living here I have realized how much I take for granted in Sweden and how tough it can be here if you are poor.
Did you experience 'culture shock' in USA. How different is it from Sweden or other countries you have lived in?
I wouldn't call it a chock but I remember how I got a bit annoyed by the greetings here at first. Swedes are more reserved than Americans and we don't tend to ask strangers how they are (or start conversations with them). In Sweden we usually just ask how someone is doing if we really want an answer. So to me it came off as a bit shallow and confusing at first, and I never knew what to reply but now I really like it.
The work place in Sweden is more relaxed in general, in that it has less hierarchy, more decisions are made in consensus, and if there is something you don't like or agree with your boss on you can say so in a very direct way. I am still operating pretty much the same way here, but I think I have learned to be a bit more… gentle in how I say things perhaps. And to pick my fights.
How has your life as an expat influenced your personal and work life
Living abroad in several different countries has definitely influenced my personal life in that I have a deeper understanding for different cultures and why people behave a certain way. I am convinced that if people lived abroad, or at least traveled more, the world would be a happier and more forgiving place.
But being an expat has also changed me in that I am finding it harder and harder to see myself living in Sweden for the rest of my life. First of all because living abroad is making my everyday life so much more interesting, even though I have been here for almost a year, most things are still exotic to me (at least more so than they are in Sweden). But it has also opened my eyes for the fact that some things are better abroad than in Sweden, and for every time I come home now those differences are clearer.
Have you done anything since moving to Philly that you never would have expected?
I actually met the King and Queen of Sweden, Mayor Michael A. Nutter, and the Swedish Ambassador Jonas Hafström, when they visited the museum in May this year to celebrate the 375th Anniversary of the New Sweden Colony. (The Swedish Colony used to be in this area from 1638 to 1655, even before William Penn). It is pretty peculiar that I had to go to Philadelphia to meet the Swedish King and Queen for the first time, but it was a fun experience. The day after I also got a chance to work with PR for the Royal Dinner in Wilmington, where not only the King and Queen of Sweden attended but also their daughter, Princess Madeleine of Sweden as well as the US Vice President, Joe Biden. To learn from how talented PR professionals handled the event with over 700 guests and both local and Swedish press, was definitely a great experience for me.
I also very much enjoyed going out to the Amish County around Lancaster, and to meet native Americans at a Pow-Wow we had at the Museum a while ago.
What's the best food discovery in the USA you've made as an expat? The worst?
There are some really good restaurants in Philly, especially the Mexican food. The worst I guess is that it is so easy and cheap to get hold of junk food here, whilst I sometimes have to go out of my way to get fresh and healthy food. And I know I probably shouldn't say this, but the cheesesteaks are not much of a favorite.
What do you miss from Sweden or Singapore? Is there any place here you consider really SWEDISH in some way in Philly.
From Sweden I miss my family and friends of course, and the summers, which can be really amazing; a nice temperature, no humidity, and the sun is up almost 24 hours. I also miss having the ocean really close. From Singapore I miss these so called hawkers, or food courts, that you could find everywhere with really cheap and good food – we never had to cook ourselves living there. The tropical climate was nice as well, even though the humidity was really annoying at times. Singapore is also extremely safe and I remember how we could leave computers and sometimes even wallets in the library, go away for an hour or two and when we got back everything was still there. Singapore is also a good travel hub, it's so easy to get anywhere in Asia from there and I had the opportunity to visit a lot of the surrounding countries. Good public transportation and cleanliness are something I miss from both Stockholm and Singapore.
Since Swedes were the first Europeans to have a permanent settlement in this area (the New Sweden Colony), there are actually more Swedish related places here than you might think. Apart from the American Swedish Historical Museum, there is the Old Swedes' Church (Gloria Dei) on Columbus Blvd/Christian Street, Queen Village that is actually named after Queen Kristina of Sweden, and the Philadelphia flag of course – that got its colors from the Swedish flag. Then, if I get really homesick, there is always IKEA.
What's the best thing and worst thing that has happened to you as an expat?
The best thing is that the whole experience has changed me as a person, my values, the way I look at the world, but I also feel more confident about what I can accomplish and that living abroad isn't that hard. And of course – all the friends I have made.
What do you like more in this country than in your own country? Or less…WHY???
I like that there are much more going on here, lots of events and things to do, stores and restaurants have longer opening hours and Americans are more outgoing. People are also allowed to be more different here than at home, which is a good thing, Swedes can be really mainstream. Philly is also much cheaper than Sweden, and it's a hundred times easier to find a place to rent than in Stockholm. And the climate is better – it's always sunny, right? Sweden however is more progressive and liberal in many ways, especially when it comes to gender equality and sustainability. The food, in general, is also healthier in Sweden.
Where do you see yourself in the future? WHY?
I will stay in Philadelphia until June 2014, after that I will try to find a job in Stockholm. As much as I love to live abroad I do want to try to settle down where I have my family and closest friends so I will give it my best shot. I will probably look for a job within Marketing/PR for an international company or organization, where I hopefully could travel or live abroad for shorter projects. But I could also see myself move abroad again, perhaps to London or Amsterdam – cities I really like but that are relatively close to Stockholm.
Tell us about the international group/s you are involved with in Philly.
I am involved with the Swedish American Chamber of Commerce where I am still active as a board member; SWEA, which is an organization for Swedish women abroad – and of course in the American Swedish Historical Museum, stop by and say hi! And of course EuroCircle and another international group.
Connect with Lotta
Website: www.americanswedish.org
Facebook: www.facebook.com/lotta.nordin.73
LinkedIn: Lotta Nordin
EuroCircle: Lotta Nordin