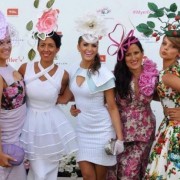 EUROCIRCLE'S FLOWER POWER BIRTHDAY FOR PRIVATE PAPARAZZI PRODUCTIONS
{Please bring your printed ticket to the event. They will NOT be sold at the door. Ticket sales stop 2 days prior to event.
Promotional pricing in effect until 4/15/15.}
http://eurocircle.ticketleap.com/eurocircles-flower-power-birthday-for-miss-paparazzi/
Join Eurocircle as we celebrate the one year anniversary of Private Paparazzi Productions.
Our baby is turning 1!
Miss Paparazzi – Inna Race and her company have come a long way.
Since she photographed her first EuroCircle event, she has taken Philly and NYC by storm. In less than a year,
she was the official photographer of Diner en Blanc, covered Philly's Fashion Week, NY Fashion Week, shot ad
campaigns for luxury cosmetics brands, and opened her own art show to rave reviews.
But Inna has not forgotten us! So, to help celebrate her one year anniversary, we are throwing her a party.
Co-Host: Inna Race, Private Paparazzi Productions
Co-Host: Milica Schiavio, Milica in the Hat Millinery
Hostess: Sherry Kumar, EuroCircle
Members, please LOG IN with your email and password to sign up and find out more. (if you are not a member yet, register below — it is FREE.)
Share this EuroCircle event and invite other Europeans to join EuroCircle.com – it's free.
REGISTER HERE AS A NEW MEMBER