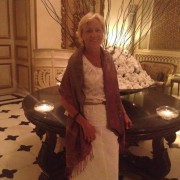 Sherry Kumar sat down with one of her travellers Yvonne, let's hear what she found out.
Traveler Bio: Born and raised in Nossebro, Sweden, Yvonne resides in NYC. She is a talented seamstress and owner of www.YvonneDesignTeam.com
So far, you have participated in two EuroCircle adventures, Cambodia & Vietnam 2013, and India 2014. What are your overall impressions of EuroCircle's travel program?
I had super, super, great experience. These trips have changed my life. I have never traveled with any group before. It was always by myself since I was 16. I thought I would never be able to afford to go to such far away places, but these trips are affordable and the accommodations are always very nice.
 Our itineraries are very fast paced and there is a lot to adjust to: the diversity of travelers who come from a variety of cultures, the wide range of personalities, and then there is the changing terrain, scenery and experiences. How do you deal with it all?
Love it all! I consider myself a "good traveler" and all this diversity ads to the experience!
Some people travel with us for the adventure, others are looking to build friendships and make connections. What's your motive?
That is the thing, I Love both! I equally like both. I do not necessary loveall the people on the trip, but I try to get a long. I find it so interesting to study how everyone copes and interacts, or not. The travelers that do not behave within the rules cannot come on the next trip.
What surprised you most about India?
I was so pleasantly surprised by all the beautiful people, art, and architecture. India was not as dirty as I expected, people were begging, or rather trying to sell all kinds of souvenirs, and they could be very pushy at times. But we did not see children with cut off hands or poked out eye. India was not as dirty as I saw on TV.
If you could re-live one day of the India itinerary, what would it be?
The day at the Royal museum in Jaipur, the unplanned stop at the Rajastathani village where we interacted with kids and the locals, and the beautiful dinner at the opulent Rambagh Palace.
What did you bring back from India, and why did you choose it?

I bought a carpet, I loved it and I enjoyed bargaining for it, even if it was not cheap, and a bought all kinds of small art for memory and gifts.
More about the trips that Sherry has organized for EuroCircle members:
Next trip with Sherry: EuroCircle Journeys Across Africa in October 2015
Check out all EuroCircle Travel stories
And who is Sherry…. Globetrotting with Sherry – wanna go with her & other EuroCircle members to Africa in Oct 2015?