Dinner & Talk with Explorer Ryan Pyle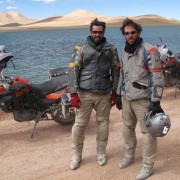 Eurocircle Presents: 12 Course Dinner and Talk by Explorer Ryan Pyle
Explore China and "The Middle Kingdom Ride" with Ryan Pyle and Master Chef Luo
Cocktail / Business Attire
Eurocircle, in partnership with The Geographical Society of Philadelphia, invites you to an unforgettable evening with explorer, Ryan Pyle. In 2010, Ryan and his brother Colin, set the Guinness World Record for riding a motorcycle on an 18,000 km journey around China. The television show created from this adventure has been syndicated globally.
For 124 years, the Geographical Society of Philadelphia has honored such world famous explorers as Jacques Cousteau, Robert E. Peary, and Theodore Roosevelt at its annual dinners. This year, you will have the opportunity to meet the man who traversed China, and skimmed the borders of Tibet and North Korea in 60 days. You will re-live his experiences through a live presentation and film clips documenting his ride through a changing China.
At the same time, with the help of Master Chef Luo, you will experience the delicacies of 12 distinct regions of China, each plate matching the cuisines of the points in Pyle's journey.
6:00 pm Exclusive Meet & Greet with Ryan Pyle (for Heritage and Admiral Peary Members Only)
6:30 pm Epic Journey Through China by Film and Feast
TICKETS:
Non-Members $125 pp
http://catalog.geogr…?item_id=742657
Membership:
$35 http://catalog.geogr…?item_id=744567
GSP Member Tickets:
$100 http://catalog.geogr…?item_id=742661
9:00 pm Eurocircle Member Drinks & After Party (location TBD)
Celebrating Eurocircle's Departure to India, EC members will meet afterward for cocktails in the city to wish EC Bon Voyage!
Dress Code: Cocktail / Business
HOTEL ACCOMMODATIONS: If you are visiting from out of town and need accommodations in Philadelphia, please email Eurocircle Philadelphia with your date of arrival and departure, as well as room preferences, and we will do our best to find you a great deal on a hotel room in the city.