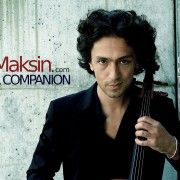 Please introduce yourself.
My name is Ian Maksin. I play the cello for. I grew up in St. Petersburg Russia and came to the United States when I was seventeen to study cello at the Manhattan School of Music in New York City.
When and why did you start playing – and which instruments do you play?
I played piano and guitar since as long as I remember, there is a photo of me playing piano when I was barely one years old. My
mom and dad were the ones who gave me musical training from an early age. Then I started taking cello lessons at the Special School for Gifted Children in my home city of Saint Petersburg when I was six.
What was the first tune(s) you learned?
One of the first tunes I learned was a Russian folk song "It's Not the Wind" that my mother sang to me as a lullaby when I was little. I recently wrote a set of variations for solo cello based on this song and they are featured in my new album Soul Companion.
Is your family musical? Describe your family member's musical interests and abilities.
Yes both of my parents are very musical, even though they both had careers outside music. My mother plays piano and my father plays several instruments quite well, and has been my biggest musical influence since I remember myself. Apart from being a physician, he had a rock band and I grew up surrounded by all kinds of music from classical to American and English rock, jazz, French and Italian pop, you name it.
Which famous musicians do you admire?
Names that come to mind right away are Sting, Rostropovich, Frank Sinatra, Ella Fitzgerald… I get transported by their music.
What are your fondest musical memories? In your house? In your neighborhood or town?
Listening to different music on an old reel-to-reel with my dad: ABBA, Boney M, Joe Dassin, Mireille Matieu… Hearing the cello for the first time on an old record that I had been given to me as a birthday gift. Attending my first concert at the St. Petersburg Philharmonia in my home city when I was six…
Were you influenced by old records & tapes? Which ones? I
I partially answered the question earlier, but to add to that, later, when I was about ten or eleven, I got my hands on bootleg tapes (this music was not officially available in the Soviet Union) of such bands as Led Zeppelin, Deep Purple, Pink Floyd,
Eric Clapton, my favorite Russian band Akvarium… I spend most of my early teens practicing blues guitar rather than cello, but I think in the long run it has given me the versatility and helped expand my musicianship beyond classical music.
Who are your favorite musicians? Groups? CD's? Since you are multicultural, you may have more varied likes/dislikes. Describe your own musical ambitions.
As I said before, I've been exposed to all sorts of music as a kid. For example, Italian pop music has had a deep impact on me since I was about five. It's something about the Italian language and the music that creates the magic. I believe the music of the Italian language itself has defined Western music with its beautiful cadences and inflections. My ambitions? One of my biggest goals is to bring my music and share the cello with as many listeners around the world as possible. I know I can make pretty much anyone fall in love with the sound of the cello, given the opportunity. I have thousands of fans in countries I've never even visited or performed in, such as Turkey or Argentina, where thousands of people share my videos and Spotify tracks, giving each other musical gifts. That's the biggest reward for me as an artist, beyond how many albums I sell on iTunes or any kind of formal recognition. I would also like to continue and further my explorations in other genres and collaborations with artists of other disciplines: dance, film, spoken word, you name it. And my ultimate goal is to create my own musical voice that I will be remembered for, making a difference in the world by fighting for peace and reconciliation through art and music.
Have you been in competitions? Any prizes?
I do have a few prizes, but I never did well in competitions in general. I find something very disconcerting and discouraging about going out there and being judged by colleagues and peers. I believe art is meant to be enjoyed by people and not judged by a small group of people that have been deemed to have the right to judge art.
Where do you perform in public? Describe those occasions? Concerts, radio, TV?
In 2014 only, by the end of December, I will have given over 200 public performances and appearances on 3 continents.
That includes concerts in Los Angeles, San Francisco, Chicago, Miami, New York, Paris, London, Lucerne, Bern, Gdansk, Stockholm, appearances on National Public Radio, WFMT, WBEZ, impromptu performances in American Airlines Terminal at O'Hare, in flight, at Willis Tower and John Hancock building in Chicago, at the Transamerica Pyramid in San Francisco, a large number of corporate concerts and presentations as a speaker and performer, collaborations with members of Lyric Opera of Chicago, Joffrey Ballet, reading a play with members of Steppenwolf Theater Company, and the list goes on…
How do you balance your music with other obligations – mate, children, job?
My music is my job and my life. I am raising a 10-year-old son and he will always be the number one priority in my life. That means I have to tailor my career around his needs. That also sets limitations on my travels during his school year (he has been the best companion on my world travels all over the world during his vacations since an early age) but on the flipside, it compels me to do more creative projects locally in Chicago. And it's really a fantastic challenge because I must remain creative and come up with new projects all the time to keep the Chicago audience excited, since I can't play the same stuff for them over and over again, like I would on a concert tour. So it's a blessing from any angle you look at it.
I always wonder how it works for many expats – having spent most of adult your life in the USA – how do you feel about your own country. That might be hard, right?? I guess I am asking also would you prefer staying here in the USA no matter what (If yes or no, why…)
Yes, at this point I consider USA my home, even though my parents still live in Russia. I am very grateful to Russia and its people for many things I have inherited: its art, literature, music, culture, legacy in sports and science. But at the same time there are many things that I have always had hard time coming to terms with and which have been the reason why I chose to remain in the United States and raise my family here.
You all-time favorite music – listening and playing?
I love any kind of music where there is room for improvisation. It could be anything: blues, rock, Arabic or African music, really anything that gives you full artistic freedom. I love classical music too, naturally, but it's a different kind of love, the definition of freedom in classical music is very different.
How is the Russian community in Chicago (websites, amount of people etc).
The Russian-speaking diaspora in Chicago encompasses a much larger group than just Russians from Russia. It also includes many people from Ukraine, Belorus, Lithuania, many other republics of the former Soviet Union, Jewish emigrants, and even many people from other countries of the former so-called Eastern Block who had been forced to study Russian back in the Soviet Days. All of those people have one thing in common: being able to appreciate the tremendous amount of art and culture that has been shared through the Russian language, and that can hopefully offset at least some of the damages that had been brought to those people and their families by the Soviet system… As I mentioned before, I strongly believe that art's biggest mission is to heal and bring people together.
Anything else you would like to share with us?
My new album Soul Companion has just been released on the Blue Griffin label and features my original music, several compositions by award-winning contemporary composers as well as my own arrangement for solo cello of Sting's music. You can learn more about the album and download it on iTunes and Amazon from my website below. My next performance in Chicago is at the PianoForte Foundation on Sunday November 9th also find additional information and tickets at my website. Also please join me on Facebook, YouTube, Google+ and Twitter, I will be happy to hear from all of you!
Official Website: www.ianmaksin.com
YouTube Channel: www.youtube.com/leftseat75
Facebook FanPage: www.facebook.com/cellomaxx
Twitter: www.twitter.com/IanMaksin
Google+: www.plus.google.com/+IanMaksin;