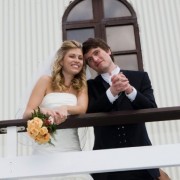 Finn Sigurdsson is from Iceland, although folks often mistakenly think he's from Finland – so did I. "Finn" from Finland does have a cool ring to it but his Americanized nickname is actually doing everyone a HUGE favor. Have you tried pronouncing the mouthful that is his full name (Sigfinnur Fannar Sigurðsson)? The only time I visited Iceland, I had a kick thinking why do people think Finnish is harder than Icelandic. Talk about a difficult language!
Finn and his lovely American wife Taryn run isARK Studio, a design-build firm, specializing in residential design and managing the build through the final phase of construction. Taryn says that "Design-Build allows [them] to help make great design more achievable while making sure every detail is accounted for."
Taryn told us she started her career originally as a Set and Prop designer and Producer in film and commercials ,which is a very good background for working with an architect husband. Two of Taryn's films have been at SXSW and one on PBS, Independent Lens. I can see how she takes pride in making beautiful concepts to come to life. As anyone who has ever done renovations or built a home – you need to understand the logistics but also design with aesthetics in mind. She is a rare exception who is able to marry those two ingredients well – art and logistics.
Finn and Taryn both feel that at the core Austin and Iceland have similar cultural climates even if have very different summer temperatures. Because of this environment his Scandinavian influenced design has been well received in Austin.
As and architect and builder, Finn thought that moving to the states would be more difficult to bring his European training into acceptance. "Growing up in Iceland it's tough not to have an affinity for nature. Our energy is all water and geothermal powered and our drinking water comes from the glacial springs. It's easy to see this as a beautiful fantasy especially when green building has developed a lot of hype. However, Austin actually cares about smart design and green building just happens to be a very important part of that. "Being German trained in Architecture, efficiency is always a focus of isARK Studio." Finn and Taryn are glad to work in a city that shares this same mentality. Finn made the move to Austin 7 years ago and despite the brutal summers he's glad he's here. Austin's current growth and economic boom is a factor that makes designing and building here so exciting. Having visited Iceland I can easily understand why Finn finds green building and efficient building so important. Finn also has a background in construction growing up. Personally I think that his background working also in construction makes him a better architect for anyone who wants a home that is constructed well from every perspective.
If you do not know Iceland – it is a very small country. Finn is a rare breed. The population is 319,000 (Jan 2011). An estimated 8% (25.500) of the population is of foreign-born nationality. Area wise its bigger than Hungary and Portugal and a little bit smaller than Cuba. The longest day in the year has about 21hours of daylight. Thw shortest day of the year has about 6 hours of daylight. The weather in Reykjavik is temperate and mild year round- New York City actually is colder in the winter!
A few current projects that Finn is injecting his Scandinavian flair into include a duplex with amazing downtown views (recently completed), a 1200 sq ft Lakway addition with amazing view of Lake Austin (recently completed), a 1964 Mid-Century Modern Ranch that they are updating and revitalizing. isARK Studio is also working on an extensive modern addition and remodel out in Lakeway, with amazing views of Lake Austin (or what remains in this dry Texas heat).
Finn has recently completed a duplex with downtown views and a 1200 sq ft Lakeway addition and remodel overlooking Lake Austin. He is currently injecting his Scandinavian flair into a old 1908 FarmHouse in Buda and two charming Mid-Century Modern Ranches.
Austin is a great city and keeps them busy but there are a few things that Finn and Taryn miss from Iceland. Dried fish, smoked lamb (just don't ask what it's smoked with) and mentholated licorice are a few. These familiar treats in the form of care packages help Finn make it through the brutal summers. Although, it's been said that if you're knocking on his door in the summer time give him an extra moment to answer, unless you're ok with a scantily clad Icelander coming to greet you. Does anyone actually get used to the summer heat in Austin?
Follow along with what isARK Studio is up to:
www.facebook.com/isARKStudio
www.houzz.com/pro/isarkstudio/
www.isarkstudio.com
ICELAND:
Iceland: www.iceland.is/