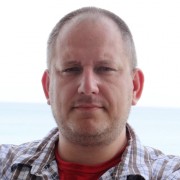 Thomas, could you tell us a short story of your life i.e where are you from, what's your educational background, what do you do now and where?
I was born in raised in Linz, the capital of a state called Upper Austria in Austria. When I was a boy around 13 I discovered my interest (not to say "love") to computers, computer games and programming – and of course girls, but that's another story. So with the age of 15 I decided to visit a school dedicated to education in the area of computer programming. When I was 16 I founded my own "one-man-business" and offered custom programming to companies in my home town. Later on – while always working full time or more – I finished university with a master in business administration and informatics.
I have two kids, Lea 13 years and Hannah 11 years old. They also live in Linz with their mother. Today I run my programming business with 17 employees and 2 other partners. We founded the company (dataformers GmbH, GmbH = "Ltd.") in 2009. I am the CEO of the company.
You are planning to check out the USA in April and May. Why and where do you plan to do that?
From April 1st to April 30th I am in Miami Beach. Austria is a rather cold country, so I try to escape a bit and enjoy the mild temperatures in South Miami. This area might also be a place to stay for good so it is definitely a spot to check out businesswise. Then, from April 30th to May 7th we will be in Austin. I read Austin is a place to be if you are in IT-business. And I heard a lot of positive things about living there. Then I will continue my journey to San Francisco, Los Angeles and finally to New York. I will go back to Austria on June 16th.
I will try to meet as many people as possible here. I want to learn what demands we could potentially address here to build up a business. Everything is pretty open but we would prefer either custom software development or New Media Marketing.
Usually there are some negatives, what are the ones for Austria that really stand out for you personally as an entrepreneur? What do you think could possibly be different in the USA?
In Austria we got very high labour costs (taxes) combined with VERY inflexible laws regarding working hours/environment. The market is also rather small. There are 8 million people in living in Austria. The European Union is by far not comparable to the US when it comes down to open markets. Maybe it is just a psychological thing but making business in another county just doesn't "feel as natural" as in the US. Also there is a huge the language barrier. I have the feeling that you can grow a company faster and further in the US. And, I don't like regulations to much. I am sure you got more freedom in how you do things in the US.
Do you feel Austria is a good place for you as an IT entrepreneur/startups right now? Are there any countries expats like you might like better in your opinion such as USA or some other European countries (entrepreneurs? WHY?)
To be honest, I don't think the EU is a good place to be on the long run. Political and economic problems will become worse. Everything is so much overregulated. I guess that's true for pretty much every EU country. On the other hand we are right now still on the sunny side of live. You can get good education (which I got but that is not necessarily true for anyone) and in principle the "infrastructure" is very well. I guess we got relatively low crime rates and mostly clean streets. Not much to complain about this. One huge problem I am experiencing with my company is, that people aren't willing to invest much in their career. Young people I meet nowadays are usually not "hungry for a career" and not willing to work hard for it.
If you could change something about Austria for a startup/entrepreneur – what would that be?
Well, that's true for every company: less regulations, less taxes on labour. And easier access to money. That's not a political aspect I guess. Wealthy people or organizations are just not willing to invest anything in startups. Austria is fairly conservative. People have their money on saving accounts, not in startups. That's the main reason why Austrian or European startups go to the US. It's just more startup-friendly
Do you go out a lot – hobbies? Or is everything about work/study right now?
Most of my time is about work. Nothing else to mention here.
Do you have any idea what's the cost of living compared to USA?
In Austria? It depends where you go in the US. Housing is a big part of a households spendings. So if you want a property in Miami Beach living is way more expensive in US. But then there are cheaper areas thru out the county. Apart from that I think cost of living is pretty much the same.
Do you think it is easy meeting people and making friends in the USA?
Not sure about that. We will see. Making friends will definitely not be easy. You mostly make friends when you are younger. I am 38 years old and work a lot.
How does the work/study culture differ from USA? (any aspect like clothing, customs, women, manners, food, alcohol, hygiene, schools, work etc)
Clothing: In the 90s I worked in New York for 18 month. That was very different to Austria. A suit every day (but Friday) was a must. I was a programmer back then. I am not sure if it is like that everywhere in the US. I prefer a casual style. Suits make me feel confined. Apart from that I think sometimes people in the US just talk and then – at the end – don't do something. I don't know how to express myself on this topic. I hope you know what I mean.
Did you have any perceptions about USA that may turn out to be super wrong…. like something will be great compared to Austria or something will be ?
Maybe the US doesn't need us Austrians
Do you think your career will be the same in the USA – or does this work better for you? Either way, please explain more.
I probably will be running my own company for the rest of my life. So my career will not be that much different. The US might just be a better ground to do business which is from this point of view more attractive to me.
Who do you want to meet on your trip to the USA and why?
People who run their own businesses – any business but preferred companies which provide services in Marketing or IT. Immigrants from Europe, especially Austria, Germany and Switzerland, are very interesting. I would like to learn from them. Everybody in a new situation makes some mistakes. I'll try to avoid as many as I can. Talking to others in the same or similar situation is key to this.
Beside that I want to meet people in the fitness industry. I want to check if there is a need for a online business idea we've got.
In 5 years – where do you see yourself and why? What would make you feel super happy about work and personal life?
Running a 100 people software or marketing agency in the US and live the American dream 😉
America is great and so diverse. I love it.
Connect with Thomas:
Email Thomas