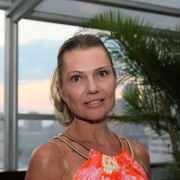 Matilda is an Art Dealer from Sweden that lives with her husband and children in New York. She has also modeled at some of the EuroCircle fashion shows in the past.
Tell us about yourself, please?
My name is Matilda Herdland. I am from Uppsala, Sweden. My whole family live back in Sweden these days. My father lived and worked in New York for over 10 years, but is now back in Sweden. I am married and have two wonderful daughters.
How long have you been a member of EuroCircle?
I have been a member of Eurocircle since 2007.
How long have you been in New York?
I moved to New York from San Francisco with my husband in October 2002
When did you start working as an Art Dealer?
A good friend of mine, introduced me to the Painter, Marita Killian Engelcrona 5 years ago.
What do you love the best about working in Art?
The joy of meeting interesting people everyday and being introduced to new Artists and their work.
Can you share with us any highlights, achievements you have reached during your career in Art?
I had an exhibition at the Swedish church in New York that really caught peoples eyes.
Can you tell us more about what you do in the Art World?
I do a couple of exhibitions each year. The most recent one was at Fika, a Swedish cafe in midtown.
Workwise – how do you see Europeans being different from Americans – also culturally, what stands out in your chosen profession?
The Swedish people have a high work standard but are custom to take regular coffee breaks called, fika even at some of the big companies. As an Art Dealer I think I have been able to take advantage of my International background and multiple language knowledge.
Can you share any Art tips for our members on what to look for when buying art?
Trust your personal taste if you don't like it don't invest just because it's a famous piece.
Who is your favorite artist and why?
My favorite artist is by far Edgar Degas, as he captured movement in his paintings of ballet dancers and horses.
One of my favorite is "At the Races".
Do you try to go back to Europe every year? The language and the culture are different than in New York. What is home for you outside the US, What do you miss the most – and the least?
I go back usually once a year, mostly in the summer time.
New York has become my home now after living her for 12 years.
What I miss the most about my Stockholm, Sweden is probably the lack of people sometimes if you arrive at Arlanda, (Airport outside of Stockholm) and it's very empty. Your first thought is have something happened, like did they find a something suspicious and had to evacuate the place.
I also miss the Swedish Au Natural yoghurt with Swedish granola for breakfast. Then Swedish candy, even though you can find that now in New York
When is the best time of year to visit Sweden in your opinion and how often do you go back?
Visit Sweden in the summer and take advantage of visiting the Archipelago outside of Stockholm. The Crayfish traditions in mid August are also fun to be part of.
When you think about life in Europe vs USA before you moved to the USA – did you have misconceptions that turned out to be wrong?
As I had received a scholarship to attend a college for one year straight after high school I was familiar with the cultural. I also visited my father frequently before moving to New York.
What would you like anyone know and appreciate about your country? (food, music, culture, people, history….)
The Swedish nature and freedom to visit any beaches or old buildings that has so much history to offer.
For example the apartment where I stay in when I'm in Stockholm is over 100 years old. It doesn't have an elevator, but there is a beautiful staircase.
The Swedish fresh fish and less sugary bread, pickled herring is something to try when visiting.
In the summer the offer a lots of free outside concerts, theater and ballet that you just have to show up for.
What places do you like best in NYC and why..any favorite cafes, restaurants?
My favorite places in the city are all the new and old rooftops lounges. VicRoy, Opia, Surrey to mention a few. Some favorite restaurants lately are: General Assembly, upscale service and excellent food, The newly renovated Boat House for brunch. Locally I like restaurant Il Melograno in Hell's Kitchen for their excellent pasta and the owner Alberto will make you feel at home.
When I miss the Swedish cinnamon buns I go to the Swedish church. The coffee is brewed the Swedish way too = strong.
Could you share with us what are your plans for the future? What is it in life that makes you happy or content – that means different stuff for all of us.
My future immediate plans are to enjoy this city and the new people I meet everyday of life. I always find interesting people whatever I am doing and often starts a conversation because I'm curious by nature. I talk to young or old people on the bus for example. Often people initiate a contact with me too.
To be healthy and be able to feel strong both physical and mentally makes me content. I do that throw my long runs and recently also yoga.
What make me happy I think has nothing to do with what city I live in but, that I'm surrounded by family and friends that I care about and love. These circle of friends is what makes the city special to me!
Connect with Matilda:
My two Artists:
Marita Killian Engelcrona: http://www.artapple.nu
Brian Farrell: http://www.brianfarrellart.com
Email Matilda!
https://www.eurocircle.com/euro/wp-content/uploads/member/2014/08/Member-MatildaHerdland1.jpg
449
701
christophe
http://www.eurocircle.com/euro/wp-content/uploads/2014/06/eclogow1.png
christophe
2014-08-31 21:21:44
2022-01-10 21:41:43

Sweden – Matilda Herdland, An Art Dealer from Sweden