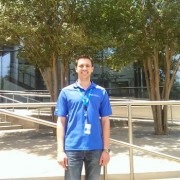 love talking to the smart young Europeans who have made a new life for themselves here in the USA. This interview is about someone I met recently first time at our special event at La V in East Austin. Meet Sergej..
Please introduce yourself.
I was born in Eastern Siberia – that's why the Russian first name. My father is ethnic German and his ancestors lived outside of Germany for many generations. At some point, my family decided to move back to our roots, as we got tired of being chased by wild animals in the freezing-cold Taiga. We ended up in the Northern Germany when I was 16. There, I finished high school (Gymnasium) and then got my degree in Electrical Engineering. In the last year of my graduate program, in 2011, I was working for an Electronic Design Automation company in Leuven, Belgium, and I was looking for a place where I can continue my research. Luckily, I was introduced to my current PhD advisor who is a professor at Duke University in Durham, NC, USA. It turned out that he was looking for a new PhD student to work in the area of testing of 3D-stacked Integrated Circuits and that was exactly the topic I was working on in Belgium! I met my advisor in person in Germany and after a short talk over a cup of coffee I knew he was the mentor I wanted to work with and decided to join his research group at Duke. So, in 2012, I moved to Durham to start a PhD program in Electrical Engineering in the area of hardware test. This is the story of my journey from Siberia to the US.
How did you end up in Austin?
In our research group at Duke, many students go to summer internships. I wanted to intern too and I wanted to do it at Intel. With a little luck, I got an offer from Intel in the great city of Austin last year. This year, I started another internship with Intel to work in pre-silicon test.​ This is where I am now.
What do you enjoy most about Austin, now when you have more experience, how's the quality of life compared to Germany, East Coast or other countries/regions you may have lived in?
Austin offers a lot of stuff to do: music shows, dancing, outdoor activities, great places to eat out. People in Austin are very laid back – it is easy to meet new people and make friends. Living in Austin is affordable (yet) – it is comparable to East Coast excluding major cities and less expensive than California; however, living here is much more fun, provided you can deal with the heat. A side-by-side comparison with Germany is difficult but for me right now, Austin would win!
Usually there are some negatives, what are the ones for Austin that really stand out for you personally? What do you miss most about home – what is your home in your heart?
There is not much I can complain about. If you live far from your work place, you will probably hate the traffic. I don't have this problem, however. Public transportation in Austin is not very advanced, so you need a car to get around.
My home is where my family is – Germany. That's what I miss most. I also miss the times when I could bike or walk to a bakery around the corner to get freshly baked bread (they have over 300 different kinds…). This is not possible where I live.
Do you feel Austin is a good place for you as an intern/employee/entrepreneur/freelance right now?
Absolutely. There are many tech companies here, in the "Silicon Valley" of Texas. It is not as big as the Bay Area in California but it is growing rapidly. It is a great place for engineers like me, for economic and cultural reasons.
What are the best places/suburbs to live in Austin in your opinion?
There are many good suburbs in different parts of Austin. I highly recommend to choose one which is close to your work place – otherwise you will spend hours of commute time daily. I live south from downtown next to a highway (Mopac). This is a great place to live – very green and quiet, hiking trails in walking distance, only ten minutes from downtown.
Do you go out a lot – hobbies? Or is everything about work right now?
Working full-time and continuing PhD research consumes a lot of time. Still, I find some time for socializing with friends, dancing, and paddle boarding.
What's the cost of living compared to Germany / East Coast? What is cheap or expensive in particular?
One thing that is more expensive in Austin compared to Durham on East Cost, or places where I lived in Germany, is the rent. Gas is much cheaper than in Germany; however, you have to drive more… High-quality food seems to be more expensive in the US compared to Germany.
Did you think it is easy meeting people and making friends in Austin?? It seems like a city that would not have a huge lively European style downtown where you can access all by foot??
Yes, it is easy to meet new people in Austin. There are many social events in the downtown area which is totally walk-able – you just need to find a way to get there or live near downtown. Some good places are outside though – you need a car to reach them.
Did you have any misconceptions about USA as a place to study/work that have turned out to be super wrong….or vice versa, you thought something will be great and it is exactly the other way around?
Not really. Before I moved to the US, I talked to people who studied or worked there, so I had a good picture.
Do you think your career (business) would be the same in Germany – or does this work better for you? Either way, please explain more
I believe I made a good choice. USA offer more job opportunities in my area (semiconductor industry) compared to Germany, so, I believe, it will be easier to find a good position here.
What are your favorite restaurants/bars here in Austin (WHY) – and socially/workwise – what kind of networks do you attend to connect with people for business/personal life?
I like bars on Rainey Street. It is a good place to socialize with peers in a laid back setting. Other than that: Elephant Room in downtown is great if you like jazz. Dallas Nightclub is great for Latin dancing. For networking and meeting new people, I attend Meetup, InterNations, and EuroCircle events.
How has the Intern experience been for you? I am always curious about that. Anything you really would like to change (btw, are there many other Europeans here)
Intel is a great place to intern. I gain a lot of knowledge about current technology that is unavailable outside of industry. This will definitely help me in my future career. In addition, I expand my professional network and make new friends. I don't think I would change anything – it is good as it is now. So far, I have not met any Europeans at Intel yet. They must be hiding somewhere…
If you can choose any job in any city in the world once you are done – what would it be and where? Why is that…
I would be a researcher, either in industry or academia – that's what I have always wanted to do. As of now, I would probably choose Austin from all places I have seen in Europe and North America​. It offers the most for my personal needs at my age – job opportunities, lots of fun stuff to do, and nice people.​
Connect with Sergej Deutsch:
Sergej at LinkedIn
Sergej at EuroCircle Forums