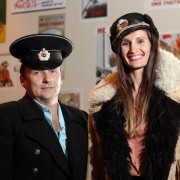 Varda and Vladimir opened their restaurant, Russian House in October 2012. I interviewed Varda 2 years ago (From Russia With Love and had a lovely EuroCircle event in October at the Russian House. We have joined forces again this year for the traditional International Women's Day party on March 8 (during SXSW) with Varda & Vladimir. I wanted to find out what's up with the two of them – Varda just returned from a little trip for her birthday from Seattle, Portland and Vancouver.
You opened in October 2012 after numerous delays and unpleasant surprises. Once the restaurant opened did you run into more surprises, for example different regulations, permissions or laws that may surprise a foreigner?
Yes, taxes. No matter how much you think you are ready for them; it s always a surprise
You're scheduled for the electric chair. What's your last meal? What about your husband's?
I really doubt I would have an appetite before getting on the electrical chair, so I would stick to my Russian nature and would ask for the whole bottle of vodka and enjoy the ride…Vladimir totally agreed with me
What are 3 tips for running a successful restaurant in your opinion?
Self organization and discipline, passion for whatever you do and full commitment
How difficult or expensive is it to be a green food restaurant – do you try that?
Just as hard as making everything from scratch; hard but rewarding
What are your future plans for the restaurant? (décor, menu, entertainment, staffing etc)
Continue to improve and grow in every aspect of this business and spread love for Russian Cuisine and Culture
In today's struggling economy, what steps have you taken to continue to lure consumers in??
We offer both meal and drink specials regularly (each day of the week has its special) for instance on Mondays we have 50% OFF on vodka infusions and appetizers, happy hour specials, tango nights. We put a lot of effort on not only feeding guests with high quality food but entrainment ("Khleba I zrelish" as the Russian saying states "All we need is a little bit of bread and circus". Our entertainment not only includes parties, but cooking Classes, Taste of USSR Evenings where one can explore Cuisines os all the Former Soviet Republics, FREE Russian Classes and much more. Combination of Authentic Cuisine along with Cultural Aspect is the key
Do you peruse food reviews and review sites such as Yelp?
Yes, maybe even more than I should. I take every review very personal, I always respond to reviewers; thank them for positive feedback and try to correct the negative reviews, I discuss the reviews with my staff, and I want to make sure they understand the importance of customer's feedback. Positive reviews make us all feel very good and make us all work even harder so please don't hesitate to share your positive experiences you had at Russian House with us.
When you're at home or someone else cooks for you, do people feel pressured to cook you something fancy because you own a restaurant and Vladimir, and your husband is a chef?
Unfortunately I don't have many friends who are willing to cook for us; we are expected to be well fed
Where do you get your ingredients from? What are the best restaurants you've eaten at in Austin outside your own?
Local farms, local food stores, New York, California (for special Russian goodies)- many sources.
We are always up to exploring more and more restaurants in Austin and are always looking for new interesting concepts. We are regulars to Wholefoods as it s very close to where we live and just a great place to buy good quality different foods. And we both love sushi.
What do you cook yourself and your family at home? Or do you cook?
I don't cook. We usually eat at the restaurant or take some of our restaurant's food home. I do make salads though, but I go to Russian House or other great Austin restaurants for a full meal
If you were to open a new restaurant, what style of food would you pick and where would it be??
No spying, Kaisa ! I do have several ideas for new restaurants. Location; Austin (yes, I would open another restaurant in Austin!) California and Europe
As far as the menu goes, after 1 ½ years you have learned from experiences what do people like the most and the least? Was there any surprises, would you change anything….
Surprise #1 The biggest surprise to me is that the most well known Russian/Ukrainian dishes such as borsch and beefstroganoff are well know for a great reason; people love love love them, not just because they want to stick to something they already know, but even those who have never had them before love them from the first bite/spoon
Surprise#2 Americans like pickled herring ! Especially our appetizer; pickled herring with pan fried potatoes. And yes, people drink a lot of vodka
Least Favorite: kholodec (an absolute Russian delicacy !) jellied meat cold appetizer.
Yes, we have made some adjustments to the menu. We had to make the menu a little smaller, I feel like people were a bit overwhelmed with the size of the menu and it was hard to make a choice.
Tell me if you have ever been insulted so much that you had to kick somebody out?
Yes, there were instances when I had to kick people out, not because I was personally insulted (people are usually afraid to mess with me; 1. I am Russian and we all know nobody wants to mess with Russians, 2. I got Vladimir behind my back at all times, 3. The whole Russian Crew will be there to protect me) but because of their inappropriate behavior in public. I m responsible for every single person who walks through the Russian House's door and my job is to make sure all my guests feel welcomed, happy and comfortable so if there is anyone who is aggressive in their behavior and is disturbing others, they will be asked to leave
What was the worst meal that you've had? What's the worst meal you've prepared?
I really cannot recall the worst meal I have had but I sure know I have prepared some and I am very lucky to have Vladimir who has made my life not only amazing but gastronomy amazing
I am sure the Russian community has really found you – as well as other Europeans. What do you think the Europeans like the best at the restaurant (food/drinks/décor….)
I really cannot recall the worst meal I have had but I sure know I have prepared some and I am very lucky to have Vladimir who has made my life not only amazing but gastronomy amazing
What would be a perfect weekend for you and Vladimir – if you do not have to work at all?
Turn off cell phones and spend a weekend in Moscow in the summer with our families
Anything else you would like to share with us?? I think I heard somewhere you made the cover of Austin Chronicle?? Are you still working as a sports agent?
I m very thankful for all the support we have been receiving and I m very happy and grateful I can spread the love for my origins and cuisine.
I am fully committed to Russian House (please refer to question about successful business tips!)
I was never told I would be on the cover, what an amazing surprise. I am very thankful to all the media support we receive. (all those years I played professional basketball, all that sweat never got me on the cover of any newspaper, all those cat walks I have done being a model never got me on the cover of any magazines, but love and hard work for Russian House did and I AM very proud of it.
Connect with Varda:
Restaurant websitee: www.russianhouseofaustin.com
Facebook Fan Page www.facebook.com/RussianBistro
Facebook: www.facebook.com/varda.tamoulianis
https://www.eurocircle.com/euro/wp-content/uploads/member-of-the-month/2014/02/Motm-Vardaandvladimir.jpg
453
663
christophe
http://www.eurocircle.com/euro/wp-content/uploads/2014/06/eclogow1.png
christophe
2014-02-28 20:28:44
2022-01-10 21:41:50

Austin – Varda & Vladimir and The Russians in Austin