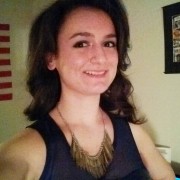 I always find it interesting why people make certain life choices – whether it is family or career. There are certain topics that touch most of us in life one way or another. One of those is cancer. I am sure everyone has someone in their family who has/had cancer – or knows people who died of cancer. Some of my friends chose to try to find a cure the same way Derya did.
Tell us about yourself – who are you and what would be the short story of your life?
My name is Derya and I'm from Apeldoorn, a city located east of the Netherlands, where I have lived my entire life. I am 23 years old and my parents have a Turkish origin, hence the name ;). After obtaining my Bachelor's degree in Applied Sciences in Deventer, I enrolled in a 2- years Master's program at the Free University of Amsterdam where I study Biomolecular Sciences. In my second year I had the option to either stay and complete my degree in Amsterdam, or apply for an interdisciplinary program, CanSys (cancer & systems biology). This program would allow students to earn a dual Master's degree, Biomolecular Sciences from Amsterdam and Natural Sciences from the University of Buffalo. Students would spend a year in Buffalo and also six weeks in Luxembourg to write a literature thesis. Of course I decided to apply for this this cool, special program- and look where I am now. Currently I am doing research at the lab at Roswell Park Cancer Institute. For the ones who don't know, Roswell is a famous cancer institute in the United States where a ton of international researchers combine their knowledge and skills to understand and cure cancer. My research is based on therapies that are used to treat patients that have metastasis (cancer spreading from the primary tumor to other parts of the body). Often when treated with anti- metastatic therapies, patients stop responding to treatment. My job is to find out what is causing this resistance so we can improve current treatment in the clinic. The reason I absolutely love my job in the lab is that 1) science is awesome ;), which gets me motivated, and 2) is because I'm actually doing something good for other people by doing something that I love, and find very interesting.
What is THE thing/s about Buffalo captivates you the most? If someone asked you what they should NOT miss while in Buffalo, what would reply? And what I really SHOULD miss….the only thing I currently know about Buffalo is that it sounds FREEZING.
Ok. Yes you should definitely miss out the winter in Buffalo. Snow is definitely something that has captivated me the most- I have never, in my entire life, seen this much snow fall from the sky in such a short period of time. Something you should obviously not miss out on is the Niagara Falls. Even though the Canadians have a much better view of the Falls, you should definitely have a look at the American side and do one of those boat tours- maid of the mist.
Anything truly memorable that has happened to you since you have lived in Buffalo?
Lets see.. polar vortex, color run, Niagara falls, halloween.. and Obama! Ok, so I arrived in Buffalo 15th of August and on the 16th we received an email from UB announcing that Obama would hold a speech at the university. UB had only a certain amount of tickets available for students to attend his speech, which you could win by entering a ticket lottery. A couple of minutes before the deadline I rushed to enter, not expecting I would even have a chance of winning. Days past and I had completely forgotten about the Obama thing because I was busy settling in my new apartment, until I received an email saying that I had won to see Obama!! Literally one week upon moving to the United States I got to see the President of America in person which was absolutely one of the most memorable things that ever happened to me
What really annoys you about Buffalo – or maybe nothing does? Netherlands..same question?
The weather. And oh, did I mention the weather? I keep looking onto this huge pile of snow right in front of my window every morning I wake up. Other than the Antarctic weather conditions in Buffalo another thing that annoys me is the size of Buffalo. It is incredible hard to go from A to B without owning a car. A simple visit from our place to Roswell is 10 minutes by shuttle (thank god we have shuttles), and a whopping 50+ minutes when taking the bus- metro- walk route. Unfortunately for the people who work in the lab we often had to work weekends when our shuttles don't run.
What do you miss most from The Netherlands or Europe…in addition to the family and friends?
I would say that I really miss the bubbly atmosphere in the city center in the Netherlands. People seem to be more out and about, walking down the streets and going to places more easily. Due to the huge size of the city of Buffalo I know you cannot just walk from A to B, so I rarely see people walking outside- pretty weird. Another thing I miss is the European nightlife!
Do you have a favorite Buffalo restaurant? Why….what is the good and bad about restaurant / café culture in your opinion in Buffalo.
I definitely have to check out more restaurants, but for now I would for sure go for Indian Gate! I know it isn't very American but I absolutely loved their food as well as the interior of the restaurant. Especially for the amount of money you spend eating here it is great! Oh, and apparently the chicken wings at the Anchor Bar are good- which I personally don't know because I'm a vegetarian. And how could I forget about the Cheesecake Factory? I know the restaurant is pretty overrated but their cheesecake is absolutely heavenly! Something I had never heard of in the Netherlands.
Where and how would you live in Buffalo or elsewhere if money is not an obstacle – compared to how you live now or would you stay where you are? Why?
I asked myself this question a couple of days ago. If I had the money I would probably live near Elmwood or Allentown. However, living downtown would definitely make it harder for me to go to the lab every day if I had to take the bus/metro so I would probably stick to where I live now, Collegiate Village. Unless I had a car I would live downtown for sure because there is absolutely nothing behind the Collegiate Village gates.
What do you think about the cost of living in the Netherlands vs Buffalo and the standard of life and life style? Very different..??
I was shocked when I first moved to Buffalo. I have heard stories from others that had visited the United States but it was only after I moved here that I would actually believe it. Everything, and absolutely everything is incredibly cheap! Cars, gas, food, restaurants, shoes, clothes- everything. I think its going to be pretty hard for me to adjust to the Dutch way of living when I move back to the Netherlands..
If you could change something about Buffalo vs. NL – what would it be?
I would change the public transportation in Buffalo. In the Netherlands (and other places in Europe) you can easily get by without owning a car but here in Buffalo you cannot go anywhere without a car which is a bit unfortunate for exchange students.
How do you think your life would be different if you stayed in the Netherlands or at least Europe? What would be a typical day or week in your opinion in the NL vs. Buffalo…
My life in the Netherlands would definitely be very different. My home town in the Netherlands (and any other city) is very compact- it is very easy to commute to the supermarket, for example, just by bike. I would be biking my way to work and I would definitely struggle less with the weather ;). I recently talked to my parents, and they told me they haven't even seen any snow ever since I left home!
What are the biggest misconceptions (or perceptions that turned out to be correct) you had about Buffalo when you moved here– and vice versa you think many of us have about the Dutch/Amsterdam/food etc?
The biggest misconception Americans have with the Dutch is weed. Believe it or not, we don't carry and smoke weed 24/7, and Amsterdam is the capital of the Netherlands- it's not a country (can't remember how many times I had to explain this to people). One of misconceptions I had about Buffalo would be the people. I didn't expect Buffalo to have this many people from Asian countries- China, India.. Most people I met in Buffalo are actually not even from Buffalo!
If there are some things you think everyone should know about the Dutch people, country, food, culture, drinks, music – what are those things to you personally? I don't even know how many Dutch people are here in Buffalo, do you?? How can anyone find the Dutch people in Buffalo or online…
There are way too many things Americans should know about the Dutch. One of those things is that we are very down to earth- we are not from a 'Hi how are you' kind of culture. We may seem very closed and unfriendly at a glance, but once you get to know us better we can be very open and friendly. Unlike most Americans that tell you 'we should hang out sometime' (and after that you never hear from them at all), the Dutch are very specific and will actually meet up with you if we ever say those things!
Other than that, people in the US should know that Amsterdam is not a country, nor the capital of Europe, but the capital of the Netherlands.
Luckily I didn't come to Buffalo on my own- I am part of a huge Dutch group of 11 people! It is pretty easy to spot the Dutch. Just follow the weird crowd that speaks a funny language and you will find me. We always go out together!
UPDATE June 2014: For the next 4 years Derya will be working in one of the most beautiful places in Nice, France in order to obtain her PhD (Signalife PHd program).
Connect with Derya:
Linkedin: www.linkedin.com/pub/derya-deveci/44/b00/673
Facebook: www.facebook.com/derya.deveci.94