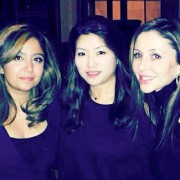 Meet our June 2,2015 Event Sponsor Equmix a new International Online Marketplace for Vendors launching in June 2015. They also hosted our fabulous white party on Tuesday, July 14 2015 – check out their blog on the event here:
http://equmix.com/index.php/blog/EuroCirclesSummerWhiteParty/
Meet Co-Founders – Rose Barghout, Sadia Syeda Hussain and Anne Kim! Come out on June 2 for our Immigrant Heritage Party at the Attic and meet them in person! Rose, Sadia and Anne came up with the concept of Equmix after searching and not being able to find the products from abroad that they loved. Equimix will allow you to find those products you love from abroad and have them shipped directly to your door!
Can you tell our EuroCircle Members about you and your background?
The best part about our business and partnership is that the founders of Equmix are immigrants from different countries. Our founders come from New Zealand, Pakistan and Korea.
How did the concept for Equmix come about?
A marketplace for international vendors is virtually nonexistent on the Internet. Many immigrants of various backgrounds and ethnicities like to purchase products brought over by vendors and people from overseas.  Equmix provides these merchants and consumers with a platform.
What void in the European Market does it fill?
It fills that void of shopping-back home or on your travels.  Save your trip and shop on Equmix!
What is Equmix's mission?
Equmix is a global shopping experience of international products for everyone's needs.   It's a simple click away to find the international items that you are looking for without traveling.
What makes Equmix different from other European product sites out there?
There will be a lot of vendors & products that you just can't find on any other website.
Why is Equmix so important in today's global marketplace?
Every year the United States becomes more and more diverse.  Equmix brings those things we want and need from our cultures onto American soil, making them easily available to all of us.
Before Equmix what were you and your co-founder's doing?
The co-founders come from different work backgrounds that complete perfect team for Equmix.   We have social media, finance, and fashion industry background that creates good business model.
Where are each of you originally from? Can you tell our members about where you are from?
We come from all over the world.  Our members immigrated from New Zealand, Pakistan, and South Korea.
What are your favorite places to visit in your home country?
We love to go back home to shop for things that we can't find here!
When you're not working what do you like to do in your free time in New York?
We keep ourselves very busy!   We love visiting galleries, shopping and trying the new restaurants around town.
How can our members sign up for Equmix?
It's very simple – go to www.equmix.com and sign up.  Be part of the Equmix community!
How long have you been members of Eurocircle?
We recently added as a members in New York!  But have attended events in San Francisco!
Anything else about you or Equmix you would like our members to know.
Equmix is a community of International people living within the United States – we work hard to have a diverse range of products. We hope you will join our community and give us feedback on items that you would like to see more of!
Connect with Equimix:
Equmix on Facebook
Equmix on Twitter
Equmix on Instagram
https://www.eurocircle.com/euro/wp-content/uploads/member-new-york/2015/05/Interview-equmix.jpg
640
640
Alexandra Spirer
http://www.eurocircle.com/euro/wp-content/uploads/2014/06/eclogow1.png
Alexandra Spirer
2015-05-28 21:21:37
2022-01-10 21:41:34
Equmix – A global shopping experience of international products