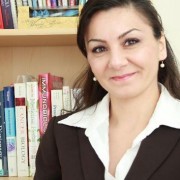 Please introduce yourself.
My name is Aygün Sahin and I am from Frankfurt/Main, Germany. I am the Founder and CEO of a Boston-based global non-profit organization on cancer education CANCER RESEARCH SIMPLIFIED. We educate people about cancer in a straightforward, non-technical way and in multiple languages. We're only one-and-a-half years old, have about 15 team members, and our educational programs have reached over 120 countries around the globe and in all 50 states in the US. I live in Boston, MA and run my international team around the globe from here.
When/where did you move to USA – how did you choose those cities/career?
I moved to the USA, more specifically to Boston, MA 8.5 years ago, when I got a job offer as a postdoctoral fellow at Massachusetts General Hospital-Harvard Medical School (MGH-HMS) in the department of Neurosurgery. Boston was my first "American experience" and I am so in love with this city that it makes it really hard to move anywhere else. I am a biologist with a Master's degree in applied biology, earning both my undergraduate and Master's degrees from Hacettepe University in Ankara, Turkey, where I also worked as a research and teaching faculty member. I always believed in "bringing science down to people" and that's why I got my master's degree specifically in applied biology.
During my undergraduate years, I got selected from over 60 applicants for a summer internship at the Turkish National Scientific and Research Council (TUBITAK) at the department of Molecular Oncology. That was the time when I started to find cancer research fascinating. After earning my Master's, I moved back to Germany for my PhD degree in Genetics at the University of Bonn. My PhD work was all about understanding the development of one of the most aggressive, most deadly type of brain cancer in adults, Glioblastoma (GBM) and developing genetic therapies for it. I continued to work on GBM at the Center for Clinical Research at the University of Bochum, where I built and ran a neuro-oncology laboratory, developing cellular therapies for GBM. This was the time when I got a job offer as a postdoctoral fellow at MGH-HMS and moved to Boston, MA.
There, I developed cancer immunotherapy strategies for GBM and won a highly competitive research award from the well-respected American Brain Tumor Association (ABTA). After 3.5 years working as a postdoctoral fellow, I got promoted to a junior faculty position. During my career in cancer research, my experience with cancer patients' family members around the globe, desperately searching for knowledge about their loved ones' disease and the disconnection between the scientific world and cancer patients led me to build the nonprofit, Cancer Research Simplified.
What did your family do and where are they now?
Although I was born and raised in Germany, as you might have guessed, I have a Turkish name. My parents are Turkish and I lived 16 years of my life in Turkey, from secondary school to high school in Istanbul, and from college to masters in Ankara. We moved from Germany to Turkey in 1984 and since then my parents have lived in Istanbul. My mother supports my father at home while he still works at the age of 70 on his own business in tourism. My two older sisters moved back to Frankfurt for college, while my little brother stayed in Turkey and pursued college there. Both of my sisters have degrees in German studies and journalism, and my brother is an electrical engineer. My oldest sister is currently living in Düsseldorf with her family and is a well-published, award-winning author on children and youth literature, addressing intercultural tolerance. My middle sister lives with her family and my amazing nephew in Berlin. My brother works as a manager at a company in Istanbul, where he lives with his family.
How did you end up starting the non-profit you have now? Why – and how do you fund it?
During my career in cancer research, I always dealt with people's questions about cancer and latest cancer research for specific cancer types. This led me to build a nonprofit that explains people their disease, guide them toward institutes and hospitals, and help educate the general public about cancer prevention. Since I have been a mentor for young people throughout my career, I strongly believe in encouraging young scientists, thus, our nonprofit also has the mission of providing cancer research scholarships to high school students around the globe. There is also a specific story behind it.
You can read more about why and how I built the nonprofit here: http://www.cancerresearchsimplified.org/about-the-founder.html
Our funds are raised by donations, board member's contributions and in-kind donations from companies. We're also looking for sponsors to support our specific educational programs and great cause in general.
Do you try to go back to Europe every year? The language and the culture are different from in the USA for sure. What do you miss the most – and the least?
Oh, I wish. Unfortunately, I haven't been to Germany and haven't seen my siblings and nephew for 5.5 years. Recently, I had to fly to Istanbul, after two years, due to a health condition of my grandmother.
What I miss the most is the close friendships that come so naturally in Europe, here in the USA, you must work very hard for it, and yet, you're often not sure whether or not you are considered to be a "close friend". On the other hand, I absolutely love the tolerance between cultures and religions here in the USA, the respect and care for one another, and that you are and can be who you are, which Europe really has to learn.
Workwise – how do you see Germans/Turkish being different from Americans – also culturally, what stands out in your chosen profession?
Generally speaking, I think we Europeans are very shy to present ourselves both in written form and verbally, whereas Americans have absolutely no problems with it. When I talk about my profession, Germans, like myself, work very organized and efficiently during their work hours, and are always on time, and I find Turkish people to be very smart and they ask great questions. Not that people from other cultures don't have these qualities, but those are the ones that stand out in my opinion.
When you think about life in Europe vs USA before you moved to the USA – did you have misconceptions that turned out to be wrong?
I have to chuckle at this question. Yes, like every European, I thought that the USA was a super high-tech country. Like in Hollywood movies, I thought that tall buildings were made out of glass, and all machines were operated by robotic technology, and your coffee, tea, drinks were handed to you by pressing a button. Well, who knew that the houses, streets, and public transportation are very old here. That was a huge shocker for me.
What is your favorite food/s and drink?
Oh, my favorite foods are Karniyarik (stuffed eggplant) and dolma (stuffed peppers). I don't think I have a favorite drink, but I don't drink anything caffeinated, I always drink decaf Americano, herbal teas, and milk.
How is the European community in Boston vs. the USA? Who do you think are the Germans and Turkish the average American may know? Any scientists?
My goodness, we have a huge European community here in Boston. But I must say that San Francisco is also one of my favorite cities, and it also has a large European community.
As for German, I think Albert Einstein would be known by an average American, and Mehmet Öz as a Turkish physician. However, having worked at the Neurosurgery department at MGH, I was very pleased to hear the repeated mentioning of Gazi Yaşargil, the father of modern Microneurosurgery.
What would you like anyone to know and appreciate about Germany or Turkey? (food, music, culture, people, history….)
I think people know that about Germans, but I really like to emphasize that Germans are known for efficient, organized, and timely work ethic, which is praiseworthy. Turkish people are really smart and they can think on their feet. Many people know that already, but I like to emphasize here that Turkish people are very friendly and warm-hearted people, and are very hospitable.
Would you ever return to Europe to live there fulltime?
I am not sure. Haven't thought of it (yet). I love living here in Boston and in the USA, but I miss my family and friends very much. It's a tough call.
Could you share with us what are your plans for the future as far as your research goes – what would you like to accomplish…what has been the best, worst…My exchange family's dad was a cancer researcher, Phd (immunology) – so I have heard a lot about this and also experiences with close family and friends the affects of cancer at many levels. I guess personally for me small kids having cancer is the most touching as it feels so unfair.
Sure. My goal with our organization is to become "the" resource and center for cancer education in the USA and around the globe, collaborating with hospitals and K-12 schools on cancer education. For cancer patients specifically, my goal is to fully empower them against their diseases, not feeling victimized by it, and being able work "together" with their medical team. To achieve this, we recently initiated a worldwide campaign in multiple languages, called #empowermentagainstcancer. People download our sign from our website and write the names and countries of their loved ones who are currently suffering from cancer and send their videos or pictures to us. We've received an overwhelming amount of responses and I would like to encourage everyone to join our campaign. You can learn more about our campaign here: http://www.cancerresearchsimplified.org/blog/take-part-in-our-new-campaign
I had amazing experience with people contacting us from around the globe, asking questions about their loved ones' diseases. I cannot describe the feeling when they thank you back, writing very emotional thank you letters, it's just heart breaking, but extremely rewarding. Then I know that I "really" do something good for humanity!
As a cancer immunology researcher, I absolutely believe in the power of cancer immunotherapy and I know that there will be amazing therapies available, hopefully in the near future.
Yes, pediatric cancer is a topic that breaks my heart as well. But I need to emphasize that not all cancer types lead straight to death. Some cancer types have a better outcome and survival rate in childhood as well as adult cancer than people might think.
Anything you think we all could do to prevent cancer realistically?
That's what we educate the general public about. We're the only organization that exists that informs people on what they can do on day-to-day basis to prevent cancer. Therefore, we promote healthy diet, exercise, and healthy life style. Eating healthy (e.g., some fruits and vegetables need to be consumed as organic due to pesticides, less processed food, fiber rich foods, more whole foods) and in balance (balance of protein, fat, and carbohydrates), doing exercise, staying away from stress, staying in smoke-free environments, avoiding products with harsh chemicals, being more in fresh air, staying positive are some things we all could do to seriously reduce the risk of cancer. Obviously, it also depends on our genetic heritages, but some triggers caused by environmental factors can be avoided.
Connect with Dr Aygün Sahin & Cancer Research Simplified:
Aygün Şahin, M.Sc., Ph.D.
CEO and Founder
Cancer Research Simplified – 501(c)(3) non-profit organization.
Phone: +1 (617) 767-1070
P.O. Box 400335, Cambridge, MA 02140
USA
www.CancerResearchSimplified.org
FACEBOOK