Moulin Russe – A Night of French & Russian Music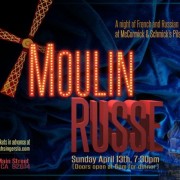 Julia Kantor, the producer and one of the singers in Paris Chansons is doing her signature show, "Moulin Russe," an unforgettable of French & Russian music in Irvine on April 13th.
They'll be performing the passionate songs of Aznavour, Brel, Dassin, Macias, Kaas as well as some of the most beautiful Russian classics!
I am reserving tables for our group to sit together if we pre-purchase tickets which are only $15. Tickets to be purchased in advance at www.frenchsingersla.com
This is a great way to spend Sunday night, listen to beautiful European music and really get to know a few EuroCircle members.
Let me know as soon as you have purchased your ticket/s online and I will add you to our table.
Patrick Charriou
949-923-1110