French Comedy Attila Marcel Screening & After Party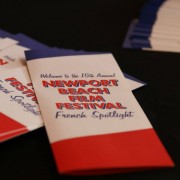 Noelle Caliguri, friend of mine, is the French Spotlight Coordinator for the Newport Beach Film Festival. We would like to extend EuroCircle members and friends to the French Spotlight event on Tuesday, April 29th. We are screening the French comedy, Attila Marcel.
Story: Paul, a mute in his thirties, lives in a Parisian apartment with his aunts, two old aristocrats who dream of seeing him become a virtuoso pianist. Isolated from the outside world, Paul has aged without ever having lived, until the day he meets Mrs. Proust, his neighbor on the fourth floor. This eccentric woman has the recipe for an herbal tea, which through music, brings back memories more deeply buried. After drinking it, Paul discovers his history and finds the key to help him finally live his life.
After the film, there will be an after-party including free food, drinks, and entertainment at Via Lido Plaza in Newport Beach.
Also, the official sponsor for the night is Diptyque Paris, a luxury French candle company.
Here is the ticket link:
GET YOUR TICKETS HERE. The Promo code is FSNBFF2014.
It is $5.00 off the screening & after-party ticket worth $40.00.
Tickets for ONLY the film will be $18.00, and ONLY the after-party will be $30.00.
IMPORTANT: The promo code only works for the two together.
Newport Beach Film Fest French Spotlight Facebook Page-
Newport Beach Film Fest Promo Video- Newport Beach Film Fest French Spotlight Facebook Page-
Age: 21 and over for post party
Dress: Cocktail Attire suggested/ Outdoor event – coat or jacket recommended
Merci Beaucoup,
Patrick Charriou & Noelle Caliguri
PS. Please register at the site as well so we know you will be there