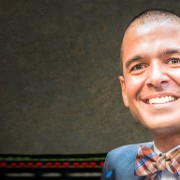 I met Ajay years ago in Los Angeles at a movie premiere and we have stayed in touch on and off. For a while he was running the EuroCircle Los Angeles at the same time with Saran Ganesh who I believe is now in Boston.
Ajay, since the readers don't necessarily know you, would you please introduce yourself a bit to get started in your own words. Who is Ajay?
I moved to LA working for a tech recruiting company in Pasadena in 1999. I was soon headhunted myself to open the USA office for a European Recruitment firm which I co managed for 5 years before starting my own business recruiting for the video and interactive games industry. I love technology and and as well as running 2 recruitment operations now I'm also involved in a handful of tech startups. I'm a father of 2 beautiful kids, photographer and all round technopreneur! Born in England and still speak English… the English way.
What do you enjoy most about LA, now when you have more experience, how's the quality of life compared to the UK?
I actually tried to move back to England in 2005 and that idea lasted 3 months if that! I still support England in the World Cup but the weather, lifestyle, overall quality life, being in the technology center of the world – as well as the fact my kids are American (and so am I now) is what keeps me here.
Usually there are some negatives, what are the ones for Los Angeles that really stand out for you personally? What do you miss most about home?
Of course I miss my friends and family…. Will leave it at that 😉 Negatives? Lot's of negatives as there are everywhere in the world but that's a one on one conversation with anyone that wants one! The positives out way the negatives and that's what counts
Do you feel LA is a good place for you as an entrepreneurs right now? Are there any areas expats like you might like in the USA in your opinion (entrepreneurs? Why?)
Absolutely, There's a fresh type of energy in the city together with a craving for attention. Everyone appears to be someone important whether they are or not – which isn't a bad thing… Kind of keeps you on top of your game. This somewhat means the golden ticket goes to the person who stands out the best. Self-promotion definitely exists and works in LA…. and you need to be able to self promote!
Which are your favorite places/suburbs to live in LA? Why?
Every city in LA County has it's gems… That's what geographically different in LA. It's not just once city with everything to do in a 5 mile radius! You can be at the beach (many beach towns to choose from) downtown, the valley, westside and you'll always find something to do.
Do you go out a lot – hobbies? Or is everything about work right now?
Hobbies definitely circle around work, but work doesn't circle around the kids (well not always)… The pace is such that you're always busy but that's the way I like it
What's the cost of living compared to UK? What is cheap or expensive in particular?
Being in recruitment and dealing with international relocation, you can't compare your earnings here to what they equate in the UK (or vice versa)…. It's what you can do with your money here so easily and it's spending power that for me (IMO) make's it a better place to earn. I've been here 15 years so couldn't give you up to date price comparisons but can say I still don't flinch at the price of gas even with increasing prices.
What are the LA locals like; do you feel you mix mainly with other expats? I guess this is a bit easier for you since you speak with a wonderful British accent!
The accent helps. A lot. Let's just say the weather keeps most people in a great mood. I haven't met many people I don't get on with… or rather don't get on with me..
Did you think it is easy meeting people and making friends in Los Angeles?
Yes – but you've got to make an effort as well
Connect with Ajay Babber:
Website: www.whowantsmylife.com
LinkedIn: www.linkedin.com/in/ajaybabber/