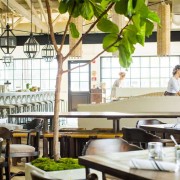 EuroCircle Los Angeles' next event will take place at Gracia Madre, a 100% organic, plant-based Mexican cuisine. They serve cuisine inspired by the kitchens of Mexico sourced from locally grown organic ingredients as well as having some exceptional cocktails… ummmmm Mezcal Mulessssssss!!!!
We'll be meeting at 7pm on Thursday May 7th 2015 (Gracia Madre is located in West Hollywood).
See you all there, let's have a good one.. Please make sure you're there and make sure you bring your friends, family, neighbours – whoever wants to have a good night out and meet some amazing people from all walks of life.
See you all there 😉
Cheerio!
HOSTED BY:
Sonny & Tanya
EuroCircle Los Angeles FB group: