Wirtshaus 1 Year Anniversary Party with Bjoern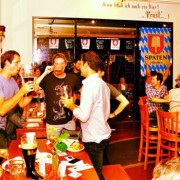 The Wirtshaus, owned by EuroCircle German member Bjoern Risse, turns "one" and Bjoern would like to celebrate this with YOU, friends and fans on Saturday, July 28, 2012. Bjoern will be there all day! Make sure to say hello!
This event will feature LIVE MUSIC in the evening, DJ playing German classic during the day AND the tapping of a ceremonial "birthday" keg at 3:00 PM.
The first, ceremonial keg will be "on the house" with a purchase of an entrée. Drink for free from that first keg until it runs dry!!!
Wirtshaus
345 N La Brea Ave, Los Angeles, California 90036
About Wirtshaus:
Wirtshaus is a traditional German pub, specializing in authentic German food and freshly tapped beer. Featuring over 35 German beers and a great selection of German and Austrian wines. Authenticity is the key for us at the Wirtshaus, and we strive to bring you the best in traditional German cuisine. Our menu includes various versions of schnitzel, sausages, potato pancakes, and of course, pretzels. It also includes vegetarian options and kid-friendly dishes.
The atmosphere at the Wirtshaus is fun, laid back and "gemütlich". Come hang out and enjoy yourself on one of the long wooden tables inside, in the lush "Biergarten" outside, or by playing "Around the World" on our ping-pong table.