EuroCircle @ NY Business Expo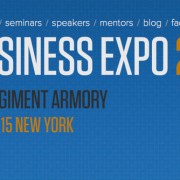 Join Eurocircle and Questionmine at the NY Business Expo
We are in Booth 21 stop by and visit!
NY Business Expo 2012 is a disruptive and interactive B2B trade show that focuses on showcasing innovative products and services from startups and small businesses in the tri-state area.
The show includes five components:
Show Floor, Startup Central, Small Business Classroom, After Party, and StartEngine Demo Day.
Startup Central is a key component for this Expo. It features experienced entrepreneurs and investors in a one-on-one mentoring environment. Startup Central is free to attend, but we require you to at least work in the consumer web, software or hardware industry to talk to our mentors. Students are welcome too! Check out our mentors here. Sign up here.
Small Business Classroom offers excellent resources to help business owners become more skillful with social media, technology, sales and marketing tactics, etc. This component features 28 seminars that are presented by world renowned speakers such as Peter Shankman, Dan Porter, Jeff Bussgang, Carol Roth, etc. Check out each seminar here.
Open bar. Cool people. Unlimited networking. It just can't get any better! If you missed any Small Business Classroom or Startup Central sessions during the day, this would be your opportunity to catch up with our mentors, speakers and exhibitors. Besides, you will be able to meet hundreds of small business owners and startup entrepreneurs here.
We hope you will join us at this great show as well as the after parties!
To sign up click on one of the above links or go here to sign up.
Best,
Alex and the Eurocircle NY Team