EuroCircle Houston November Get-Together at Solea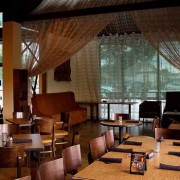 Invite your global-minded friends and co-workers to convene for great food, wine, spirits, and live music. Solea cafe extended its happy hour prices to 8 pm for our event and offers complementary appetizers to EuroCircle guests.
Solea cafe is a place where the infusion of Houston's vibrant international, multicultural scene bring about a melting pot of culinary cuisines. This tapas restaurant is cool, music is great and is a hang out place for many artists in Houston.
Don't forget to RSVP for a night of fun and the opportunity to network with other global minded individuals.