The MD Flashback Birthday Bash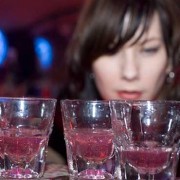 EuroCircle Chicago presents: THE MD FLASHBACK BIRTHDAY BASH – Saturday, November 17 @ Neo
I'm turning 25- again! 🙂 Come join us in helping a certain someone celebrate a birthday- retro style of course! It is our pleasure to invite you all, having been such a central part of the good times we've shared together over all of the years. And what better way to celebrate than with a musical retrospective, going back to the 80′s, when she first found her groove, purple hair and all! (you should dig up one of those old 80 photos)Take a step back in time with us at the legendary Neo Nightclub, to a time when the tunes were truly international, featuring everything from the Cure to Duran Duran and beyond.
No attitude, no pretension, and especially no over priced cocktails!
Just drop the magic word "EUROCIRCLE" for comp  until 11:30- $5 (half off) for EC members thereafter!!
DJ John Curely on the decks and taking requests for good new wave dance music only!