Spring Fling @ The Godfrey Hotel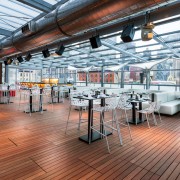 It's officially Spring time in Chicago, so dust off the cobwebs and put away the boots (we hope) because our next event will be al fresco!!
Please join us and our lovely co-hosts, Kristina Reed, Alexander Facklis and Cynthia Xerogianes for our monthly apres work networking event at the gorgeous Godfrey-one of the city's premier cocktail-focused rooftop bars!This beautiful lounge features a cozy yet spacious indoor area (which hopefully, we won't need to use!) as well as an amazing outdoor terrace overlooking Lake Michigan and the Hancock building.
We look forward to seeing you there!
Featuring DJ John Grammatis
Proper attire required please
Private event
TRIP WITH SHERRY – EuroCircle Journeys Across Africa – Oct 2015
3 Countries in one EuroCircle Adventure!
Namibia, Botswana, Zambia. From the Kalahari Desert, through the Okavango Delta, we walk with the San bushmen, visit Chobe National Park, search for the Big 5, float past hippos in a dugout canoe, raft the whitewaters of the Zambezi River or bungee jump down the Victoria Falls! Scared?
INTERVIEWS:
Larisa Pevtsova, From Russia to Chicago, Larisa's Life through the Lens
The Size IS Everything says Chef Alan Braux
Mattias Strömberg – From Sweden to Budapest with South Korean Flair
Hanna Doyle – How does a woman from subarctic Oulu end in humid subtropical Houston, TX
Florian and Romana Prelog – Creating the European haven @ the Prelogs (Austin)