Holiday Aperitivo @ Tocco!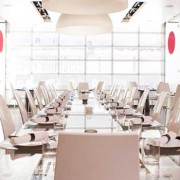 *EuroCircle private event*
Ah Italy! The land of gorgeous landscapes – and even more gorgeous people! Where food is an art and time spent good friends, family – and a nice wine- are sacred!
In the spirit of the holiday season, our friend Bruno Abate, owner of Tocco, would like to welcome us into his "home" for a true taste of Italy and lots of holiday cheer!
Join us @ Tocco for the launch of the "Italian happy hour" (Aperitivo) which will be a regular event at Tocco! We are so excited that we get to kick off the first aperitivo night with our friends from the AIC (associazione italiana chicago) and "Chic Italians of Chicago" groups- after a taste of Bruno's food and a cocktail or two- you'll swear you're in Milan instead of Chicago!
Space is limited so please RSVP! Don't miss out on the chance to be naughty or nice with us!!
DJ John Curley for our holiday tunes!
Look forward to seeing you at TOCCO!
Maria