Yearly Charity event: Gilda's Club - Night of a thousand noogies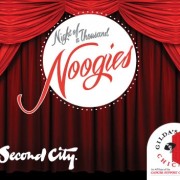 Gilda's Club of Chicago will have its Annual Night of a 1000 Noogies on Friday October 19th at the Park West with Second City for entertainment and several Chicago celebrities present on stage.
We are proud to have Gilda's Club of Chicago as our first non-profit partner and we would like to recommend this event to all our Chicago members. So join us for a night of comedic improv at this 9th Annual Signature Comedy Event.

Find more details about the event on Gilda's Club Chicago's web site
Gilda's Club Chicago
Gilda's Club Chicago is a support community for men, women and children living with cancer and their families and friends. The club offers a place where members join together to give and receive support. Help Gilda's Club Chicago host more than 11,000 visits to the Club providing psychosocial support to men, women, teens and children impacted by cancer.
VIP Seating – $125 Get Tickets
Well drinks, beer and wine, VIP goodie bag and post performance celebrity meet and greet
Reserved Seating – $75 Get Tickets
Beer and wine
Tickets
Purchase tickets through the Google Checkout or call 312-464-9900