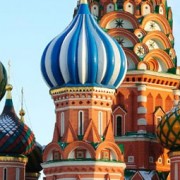 After a lengthy wait for The Russian House NaZdorovye to open in Austin, I was delighted to hear from fellow EuroCircle member Varda Salkey on Saturday they will open in August if all goes as planned. I think the steady following at Facebook attests the warm welcome. Co-incidentally while we sat at Annie's Bar Varda realized they signed the lease exactly a year ago.
My first visit to The Russian House NaZdorovye was during May when we truly hoped to get the Eurovision Song Contest event with the Swedish-American Chamber of Commerce held there. After numerous unexpected delays Varda suggested we better have the event somewhere else. Thankfully Henrik Johanssen decided we can use the Boundless Network space just around the corner. (Sweden won and Russia did really well too!)
The Russian House NaZdorovye is homey. It's fashioned in Russian house style with a welcoming feeling. It is no co-incidence as Varda and her Russian chef- husband Vladimir Gribkov aimed for this. Within the walls of their Russian "home", the guests can view the inside of a typical Russian home. They stroll through generations of Russian history, learn about some of her well-known citizens, and even have their picture taken in a traditional Russian folk costume or Soviet-era military uniform. Varda and Vladimir want to treat the diners and visitors as their "guests" who feel they are at home.
Vladimir has twenty five years under his belt in the restaurant business, says Varda, and he's worked in Russia, Ukraine, France and Germany. He is very Russian and contrary to his wife who came to the USA at the young age (17) to play basketball at Georgetown University, he does not speak fluent English. His first visit to the USA was 2 years ago when he arrived with his wife at New York City where they had originally thought about opening a restaurant. Not surprisingly Vladimir's specialty is Russian food and he is extremely knowledgable and respectful of the Russian history and traditions.
His wife, who has spent almost years in the USA, says she has learned so much about Russia from her husband. Varda's own work experience is in professional sports as a basketball player, sports agent, occasional modeling and as a sport director for one of the best basketball teams in Russia. She laughingly recalls being in tears when her coach once thought she did not play well and suggested she go back to modeling. It was like an insult. Her family is extremely well-educated, and considers modeling and professional sports as something "off-the-wall" – of course in Russia doctors, professors and teachers make nothing compared to national team basketball players.
So how did they end up in Austin? Varda's friend and former Georgetown teammate Narumol Andersson (Swedish), who works for a large marketing organization, invited them for a visit to Austin. Varda and Vladimir soon realized that not only was Texas NOT all about The Wild West, the cowboys, cattle etc but Austin as a growing city offered them a better opportunity. There was no Russian restaurant even if there are approx. 6,000 Russians or Russian speakers in Austin area.
Little did they know how much longer it would take to get renovations and all necessary bureaucracy sorted out. Vladimir had an idea but Varda was more taken aback with all delays, red tape and unpleasant surprises but looks like it will all work out now!
It has been a couple years since I ate at any Russian restaurant. At length, I asked Varda what she would recommend or likes herself. Apparently Vladimir has studied quite a bit the American culture as well and added some interesting twists. The menu is very diverse from the blinis, caviars, Kulebyaka, house-made Russian pelmenis, sasliks, beef stroganoff, excellent lamb dishes, the exclusive Tsar's Fish- Sturgeon covered in black caviar, vegetarian options, Apple baked with cottage cheese nuts and honey, éclairs, cakes, rye bread – and of course infused vodkas! It's truly authentic Russian. I can't wait for their housewarming party!
It is also worthwhile to mention that Varda and Vladimir plan to offer language lessons as well as screening Russian movies. They have stocked an excellent collection of Russian movies and books in their Russian House library. Oh, and if you are addicted to the latest American popmusic, you are in for a surprise. In addition of playing Russian music they have extensive plans for other types of entertainment, theme weeks and a little Russian store (a piano is waiting to be used!).
All in all, Varda's and Vladimir's Russian House NaZdorovye is the most interesting and diverse bar/lounge/restaurant opening in Austin. It will attract visitors from out of town during Austin City Limits and F1 as well as people who live here – not only Russians and EuroCircle members. Their location on East 5th Street just around the corner from Hilton should also entice convention and business visitors to a different lunch, brunch or dinner!
UPDATE: This interview was conducted in July, now in October 2012 we really hope they will open due to all twists and turns with the City of Austin. I want to have my Russian "thing" and have the next (October 2012) event at The Russian House NaZdorovye 307 E 5th street, Austin, TX 78701.
Facebook: https://www.facebook.com/RussianBistro
Website: The Russian House NaZdorovye
Varda at Facebook: https://www.facebook.com/varda.tamoulianis
Kaisa