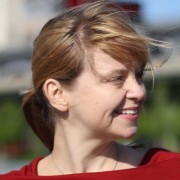 We wanted to feature Katja Guttmann who is GERMANYinNYC's Webmaster and Freelance Journalist
How did you get involved with GERMANYinNYC.org?
I am a freelance journalist and was hired as the editor in 2005. I seek out, upload and update content, pictures, videos and banners as well as write stories for the newsletter which appears weekly in our subscribers mailbox. And I create and update our Facebook presence as well.
How long has GERMANYinNYC.org been around and what's your mission?
GERMANYinNYC.org was created as a resource for anyone interested in German culture in the greater New York area. Founded by the German Consulate General and leading members of the German-American community in New York and operated by the a non-for-profit organization German-American Community Project, Inc., the website is currently celebrating its 10th anniversary. We're very proud of the fact that, over these years, we've successfully served the community as "Your Place For All Things German In New York". There are a lot of websites for German events out there, but on GERMANYinNYC.org you can find everything in one place – from a cold draft beer and hearty food to classy Riesling; from cutting-edge rock bands to oompah bands with schuhplattler dancers; from world-famous symphony orchestras to films and art exhibitions in museums and galleries; we have fun for kids listed as well as lessons for German enthusiasts who want to learn the language. Lately, we are including events from German-speaking friends across the border in Switzerland and Austria.
What kind of events does GERMANYinNYC.org organize throughout the year?
Since we are a not-for-profit organization, we need to raise funds. And we love meeting our readers and users of the website. So we are trying to combine both things in fun events: We host an annual "Maifest" to celebrate the arrival of spring and also celebrate "Oktoberfest" roughly at the same time as the famous one in Munich. We have live music and DJ's, food, drinks and exciting raffle prizes. We are always open for trying new and unusual venues, we had parties at Loreley Williamsburg and the showroom of the German bathroom designer Duravit as well at the Swiss design furniture company Vitra.
What is Germany known for? This can be food, culture etc
We have great traditional food, including sausages, sauerkraut and dumplings (Knödel), the recipies vary from region to region. And the big export hit: German beer in all its glorious variations. In Bavaria they serve it in big steins, in Cologne in sleek, small glasses. And no, we don't wear Lederhosen and Dirndl all year round – only during the Oktoberfest and only in Munich. Germany has a rich century old culture, from famous composers like Johann Sebastian Bach, Ludwig van Beethoven and Richard Wagner as well as writers like Nobel prize winning Hertha Müller, Thomas Mann and Heinrich Böll amongst others. Recently, German culture has never been more popular in New York. You can find more and more beergardens, German films and movie stars (like Daniel Brühl in "The Fifth Estate") are in high demand and restaurants like Zum Schneider and Loreley are always packed.
When is the best time of year to visit Germany?
It depends what you prefer: If you wanna go skiing, go during winter time to enjoy the Alps and get tipsy on mulled wine at one of the world famous Christmas markets. July and August are better if you want to go biking along the rivers Rhine or Danube; and nothing is better than sitting in an outdoor cafe in Berlin watching the world walk by.
What cities in Germany are your favorite and what would you recommend to someone visiting for the first time?
Americans usually love Berlin. It's like New York 30 years ago when it was still cool and affordable. The German capitol is best enjoyed in the summer months, though. Munich is more relaxed and I love the outdoor beergardens, where you can bring your own food and sit forever. But I might be partial: I was born in Franconia and therefore I am technically Bavarian.
How long have you lived in the states?
I came in 1996 to New York to gain some experience as a journalist at the German language weekly New Yorker Staats-Zeitung. After a stint as the main editor for the Amerika Woche, I started working as a freelance reporter for the wire service Deutsche Presse-Agentur (dpa), covering the United Nations and Canadian news; interviewing film stars, writing about the Fashion week, movies and exhibitions. In addition to my role as an editor of GERMANYinNYC, I am a radio producer for ARD (German public radio). I was planning on staying for one year in New York – and here I am, 17 years later, I still can't get enough.
What do you like to do in your free time?
Everything. New York is never boring to me. Ever. I love having a drink on the rooftop of the Metropolitan Museum watching the sun set over Central Park; biking over the Brooklyn Bridge to have a treat at the Ice Cream Factory; I get a kick out of having cocktails in secret bars on the Lower East Side and exploring new restaurants; meeting different people from all over the world at the United Nations; I enjoy the beach on Fire Island; I go the the movies, Broadway shows and the opera. These activities help me to do my job for GERMANYinNYC.org even better. I find new shops, restaurants and events and add all those things to the website.
How can people find out more about GERMANYinNYC.org and become members?
Just check out our website http://www.germanyinnyc.org/ and click on the "signup" button on the right of the screen and put in your email address. We'll keep you in the loop with our weekly newsletter including the coolest concerts, movies, bar openings, sweepstakes, and everything in between. You can also "like" us on Facebook to stay informed via our social media platform. And if you have an cool German-American event to promote yourself, just send us an email with the date, time, venue and and a picture and we will include it on the website: info@germanyinnyc.org.
We also have the category "German Personalities". If you know any Germans, German-Americans or German enthusiasts we should feature in our this column, please let us know.
Anything else you would like to share with us?
We have several exciting things planned for our 10th anniversary celebration over the coming months. Subscribe to our newsletter via the "signup" button or by sending an email to info@germanyinnyc.org to stay informed and become a part of our special community.