The September Concert and Austin's Welcoming Cities Launch Celebration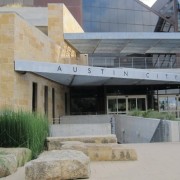 The September Concert and Austin's Welcoming Cities Launch Celebration
** This event is free and open to the public. Free parking will be available in the City Hall Garage.***
Submitted By: City of Austin International Economic Development Program
The September Concert is a celebration of peace and humanity through music. The September Concert was born in 2002 as a small, local grassroots effort and has steadily evolved to be an event of global proportion with a mission to promote global peace. From Cap Haitien to Ukraine and Tokyo, there are now over 200 September Concerts across the world.
Austin Sister Cities International has hosted Austin's September Concert for the past 11 years.
In keeping with its founding tenets and coinciding with National Welcoming Week 2013, this year the September Concert will feature the official launch of Austin's Welcoming Cities Initiative. Austin is one 18 municipalities across the U.S. that has joined the Welcoming America initiative to create more immigrant-friendly environments to maximize opportunities for economic growth and cultural vitality, and position communities as globally competitive, 21st century leaders.
***6:00 pm – Welcome & Proclamation Presentation by Mayor Leffingwell
***6:10 pm – Welcoming Cities Launch Presentation
***6:15 pm – September Concert Begins
***6:15 pm – Sister Cities Exhibits and Refreshments
I am posting this event as EUROCIRCLE is one of the organizations working as an "ambassador" to support newcomers in Austin with Casa De Espana Austin, SACC TX, Austin Polish Society etc
Our Joint June 23 International Potluck event supported the same initiative as well.
Website:
www.internationalaustin.org
There is a list of all groups who are associated with the program, some are more active than the others like always – and all the member groups can post their events as well
PS. Don't forget the September 26 RIO ROOFTOP EuroCircle event!