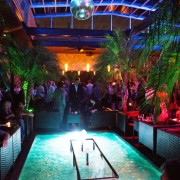 Celebrate Summer with Vibrant Rioja
Join Vibrant Rioja as they pair their Blancos, Rosados, Crianzas and Reservas with Rioja-inspired rubs! Sip Rioja wines that are perfect for the summer while enjoying an array of grilled fare designed by Master Chef John Keller!
Enjoy exciting live entertaiment while you sip Rioja delicious wines and enjoy gourmet hors d' oeuvres in a new and trendy atmosphere.
Produced by Coolture Spain (managed by one of first EuroCircle members Ana Calvo de Luis). Coolture creates high quality fashion, art and branding events in cutting-edge private and public spaces, so that they are known globally and produce unique opportunities where ordinary people encounter authentic, ever-changing experiences in multiple forms and media.
We hope you come out for a great evening of food and wine!
SPECIAL EXCLUSIVE DISCOUNT FOR EUROCIRCLE MEMBERS:
Tickets are $45, but use COOLTUREEUROFAN promocode to get an amazing exclusive discount for EuroCircle Members
Best,
Alexandra and the Eurocircle NY Team