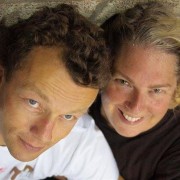 Please introduce yourself.
My name is Jennifer Garman, I am originally from West Hartford, Connecticut. Currently I live in The Hague in the Netherlands. I work as a HR Generalist at United Nations (International Criminal Tribunal for the Former Yugoslavia, ICTY). I guess most people would know the Tribunal as the organization who deal with "war crimes" in the former Yugoslavia.
How did you end up in the Hague area of all places?
I always wanted to live in Europe. It is not like my parents ever lived there or are Europeans, they are American. Though I think my mom would travel more if my father's health would allow it. They are retired and live in Austin, TX now.
In 1989 I moved to San Francisco and five years later I met two Dutch women who told me about their country.  I decided that's it. The best way I could think of getting there was working as an aupair.
And how was that experience?
Really nice as the family was super – they had a son they preferred to be raised multilingual. Therefore, I was asked to speak English all the time.  That might be an excuse but let me tell you, I have struggled with the Dutch language but I can get by when necessary. I stayed about 2 years with them.
Where did you go after the 2 years was up?
Well, I guess it was meant to be as my host family was in the travel business. I returned to San Francisco and worked for them/with them as an inbound tour operator for Dutch visitors. That was around 1995 -1999.
So what happened in 1999?
I realized how much I missed Holland, so I sold everything and moved back with my host family until I found a job.  People may think I am crazy but I like the Dutch lifestyle  and even the weather works for me.  My au-pair family invited me to stay with them until I could find something. (VERY NICE) From April 1 1999 to Oct 1999 I ended staying with them.
Now I am curious. How did you find the job at the UN tribunal?

While at an expat party similar to Eurocircle, I asked around.  I was told to contact Marie, an Irish woman in ICTY HR.  I still call her my angel.  We really hit it off. Keep in mind that The Hague area is the business capital of the Netherlands. All the embassies are there, many international organizations – it is the expatriate paradise in that sense.  Marie is already retired and lives in Spain – we are still in touch. It really was meant to happen.
I know your parents are here in the USA and your dad is not well so he does not travel. So you have no family in Europe?

My sister, Julie,  lived in Brussels for a while with her Greek husband. He was working for Procter & Gamble there. Brussels is quite close to us. Unfortunately for me they moved to Athens and he now works for Google. They have 3 kids and she is finishing her phD at the university.
And do you have kids?
In 2010 I met my husband Marc online. He has two children (daughter and son, soon to be 16 and 18 years old). I cannot imagine anymore if I would not have someone to share my life with. It is much nicer to have a companion even for the simplest things in life.
And your husband, is he Dutch?
Marc is Dutch but he grew up in Davos, Switzerland as his father worked there. Therefore his schooling is partly Swiss and he speaks many languages. His dad was a sports teacher.
If there were no monetary issues where would you live?
We both prefer Europe. We like being able to travel to different countries and cultures quickly. We like being able to walk everywhere, use the tram and bike. We live close to the beach – 10 min walk.
We would have two houses, one in the Netherlands and one somewhere in a warmer climate close to the sea like Spain, Italy or southern France. Well, if Marc gets his wish the other house (or a third one) would be in the French Alps. It would be a nice cottage that he would refurbish. He grew up in Davos so he loves to ski.
Do you see the differences between nationalities or life styles – Dutch vs. Americans?
The Dutch are very direct, they say what they feel. Americans have a lot of social small talk that many times feels very superficial. I notice myself getting irritated occasionally when people say "how are you?" …and don't even stick around to hear the answer. Don't ask if you don't care to hear my reply.
On the other hand, I appreciate the friendliness of Americans, many Europeans are not as easily open to others though they may be more genuine in their actions.
Sometimes I feel the Americans also are more polite than most Europeans.
We both see the difference in design styles here in TX. Dutch design is very modern. Our house in the Hague  is over 100 years old but the interior is super clean and modern. Americans style is much more traditional. The only thing that we complain about is the storage space in Holland.  We have to build it ourselves.
When I first moved to Holland, the policemen did not carry guns, people are not allowed to buy guns as freely. It has changed a bit – but I still feel safer there than in the USA. So, overall it is a safer environment.
I feel at home in the Netherlands.  It is my home now.
Many people say the Dutch food is terrible, what do you think?
I think – as does Marc – that the Dutch cuisine (what ever that may be), is very basic but tasty. They have absolutely amazing chocolates, cheeses, pastries etc.  And don't forget, the Dutch have amazing Indonesian restaurants.
Marc likes the fact the in the USA there are so many different cereal options – not enough to move his opinion about living in the USA. It is a minor victory in the grocery store.
==================================================================
Thanks to Jenny for sharing her thoughts. Her parents live in the same highrise where I live – her mother Helen is one of the most amazingly giving people I have ever met in my life. A real energizer bunny.
Connect with Jenny:
Jenny at LinkedIn
Jenny at Facebook
EuroCircle Journeys Across Africa in October 2015
3 Countries in one EuroCircle Adventure! Namibia, Botswana, Zambia…
From the Kalahari Desert, through the Okavango Delta, we walk with the San bushmen, visit Chobe National Park, search for the Big 5, float past hippos in a dugout canoe, raft the whitewaters of the Zambezi River or bungee jump down the Victoria Falls!