After Work Business Networking with Barcelona Connect & EuroCircle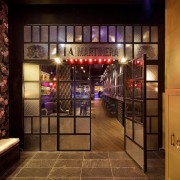 Dear friends,
You are invited to a very special evening…
Barcelona Connect and EuroCircle Barcelona are delighted to announce their first joint after work business networking & cocktail event: "New Job Opportunities."
Join us on Wednesday July 17th from 19h, at the elegant and centrally located venue "La Martinera".
Come and gain some valuable insights into new job opportunities and tips for your professional development, with guest speakers that include recruitment specialists and headhunters. You can also meet them personally, and enjoy an inspiring networking evening in a relaxed ambience.
You will be welcomed with a glass of cava and some delicious aperitifs, and included in our free raffle – with some excellent prizes such as meals for 2, an aromatherapy massage, and more to be announced.
Although the first presentation will start at 20:00 hs., we suggest you come early to network with participants and speakers.
Confirmed guest speakers from:
Europe Language Jobs: www.europelanguagejobs.com
Talent Search People www.talentsearchpeople.com
€10 to be paid at the bar. This includes a welcome drink, appetizers and raffles.
RSVP requested
We look forward to seeing you there!
Feel free to contact us if you'd like any further information at ,
EuroCircle Barcelona
& Barcelona Connect
—————————————-
Amigos y amigas,
Estan invitados a una noche muy especial…
Barcelona Connect y EuroCircle Barcelona se complacen en anunciar su primer evento conjunto: "Nuevas Oportunidades de Trabajo".
Te esperamos el miércoles 17 de julio, desde las 19:00 hs. en el elegante y céntrico bar "La Martinera".
Recibirás valiosos consejos e información actualizada para tu búsqueda de trabajo de especialistas/"headhunters" en desarrollo profesional. Además, tendrás la posibilidad de conversar personalmente con ellos en un ambiente informal.
Te recibiremos con una copa de cava de bienvenida y unos deliciosos aperitivos; además, estarás participando de varios sorteos con premios tales como una cena para dos, un masaje aromaterapéutico y muchos otros que iremos anunciando en las próximas dos semanas.
Si bien la primer ponencia comienza a las 20:00 hs., te sugerimos que vengas temprano para ampliar tu red de contactos y conversar con los ponentes.
Los ponentes confirmados son:
Europe Language Jobs (www.europelanguagejobs.com)
Talent Search People (www.talentsearchpeople.com)
Entrada: €10 a ser pagados en la puerta del bar. Incluye una copa de cava de bienvenida, aperitivos y sorteos.
Por favor regístrate
Te esperamos!
Por cualquier consulta, puedes contactarnos en barcelona@eurocircle.com, francesca@barcelonaconnect.com o al 692213669.
EuroCircle Barcelona
y Barcelona Connect