Joint el día de la Hispanidad Brunch with Casa de Espana Austin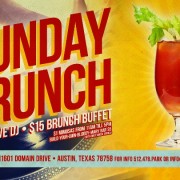 Casa De Espana & EuroCircle Hispanidad Celebration
EuroCircle members and Casa De España, on Sunday Oct. 13th at "The Park" at The Domain.
Special $15 All you can eat Buffet and $1 Mimosas, Brunch!!!!
Dress Code???? Something that shows what country are you from (soccer shirts ok ahahaha)
Celebremos el día de Pilar, nuestra fiesta de la Hispanidad!
Festeja con Casa de España Austin y el Círculo Europeo el día de la Hispanidad.
Celebramos con un "brunch" en el fabuloso buffet que ofrece en el Domain, el restaurante The Park.
Casa De Espana Austin is inviting all EuroCircle members to join to celebrate " el Día de la Hispanidad. Brunch Buffet on Sunday, Oct 13th.
Casa de Esapana Hosts: Maria Vaso de Garcia, Antonia Warren
We will have Prince Arthur and Princess Zena-Antoinette of Andorra with us joining the brunch on Sunday . Don't forget to say Happy Birthday to Prince Arthur and Kaisa (EuroCircle founder), it is their birthday that day!
The Park at @ Domain says Sundays is their favorite day. The end of the weekend means its time to eat drink and be merry the way they see it. You can enjoy sports on their 42 HDTVs or maybe the nice weather on one of the patios. They offer our regular full menu well as our goodie-packed buffet.
Typical Brunch Offerings May Include:
Traditional Migas
Cajun Breakfast Potatoes
Green Chile Mac N Cheese
Banana Buttermilk Pancakes with Toasted Pecans
Rum Spiced French Toast
Egg Not French Toast with Nutella Whipped Cream
Maple Bacon
Applewood Bacon
Sausage & Peppers
Herb Biscuits & Jalapeño Gravy
Chicken Enchiladas
Honey Chipotle Pork Ribs
Cesar Salad
Park Salad
Assorted Muffins and Breakfast Pastries
Mediterranean Pasta Salad
Jalapeño Fried Chicken
Chicken Breakfast Biscuits with Honey Chipotle Sauce
Cheesecake
Different Flavors of Mimosas
Strawberry-Citrus
Pumpkin Spice
Cranberry-Mint
Pinapple-Basil
Prickly Pear
Mango-Ginger
Lavender-Blackberry
Gingerbread