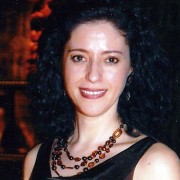 I wanted to feature another lovely member from the early years of EuroCircle. Mimoza entertained us so many times – I have such beautiful memories of her performances. When she found met her now-husband – I was probably happier than she was. My ever-romantic soul was soaring for her.
Could you tell us about yourself ?
My name is Mimoza Cakrani Frankfurt. I come from a beautiful Mediterranean country called, Albania. I have studied music professionally since I was 10 yrs old – specialized in flute and completed my BA in Fine Arts Academy of Tirana, Albania. I taught flute and also played in the orchestra and as a soloist. I moved to NYC in the late '90s and my whole life entered a new chapter!
What is your typical day like in New York? Work and personal…
A typical day for me starts by reading the NYTimes, getting ready for work and having a smoothie and coffee. A work day can never be predictable, so I enjoy the pace and the challenges that come with it. On a personal level, together with my husband, we try to enjoy the diversity of cultural life in NYC: Broadway shows, Philharmonic concerts, sport events, dining out and movies. We like taking long walks in Central Parks and also volunteering with some charity organizations.
What challenges did you face when you first moved to New York and how did you resolve them?
The biggest challenge was the career change from Music to Banking. Working in an industry that I didn't have any knowledge was like learning a new instrument. I was grateful for the opportunity, and at the same time, I was eager to learn new skills and make myself more educated in the field. I went for my Masters in Banking and that was quite challenging for me, since I was working full time and going to school at the same time.
Has your experience in NYC has been vastly different from what you expected compared to for example life in Europe?
Very different in so many ways…
Did you experience 'culture shock' in the US. How different is it from Albania or other countries you have lived in?
SI don't think I experienced "cultural shock" rather than calling it an adjustment. Because of my extensive travels and visiting the US prior to my permanent stay here, I had to settle and adjust like any other immigrant. I was lucky to have many good friends in my early years here, who made the adjustment smoother. Assimilating in a new culture takes time and effort, so as I look back I am content that this transition has evolved naturally, without pushing or forcing myself to be someone else.
What's the best food/music/other discovery in NYC you've made as an expat – or the worst?
I have tried many different cuisines in NYC and I have had great experiences. Some of my favorites are: Gotham Grill, Le Cirque, Atlantic Grill, Metropolitan Room, One if by Land Two if by Sea, Café Fiorello. Visiting Fire Island in the summer,is something I enjoy with my family as a nice place to escape from the city.
What do you miss from Albania? Is there any place here you consider really Albanian in some way in NYC.
I truly miss my beautiful city Vlore with the spectacular beaches and mountains, the great seafood, and nice weather. Vlore is one of the largest towns and the second largest port in Albania. I am proud to say, it's the city where the Albanian Declaration of Independence was proclaimed in November 28, 1912 and my great grandfather was one of the signors of it. It's well known for the tourism, fishing, agriculture, olives, olive oil, and citrus trees. I miss my family, relatives and friends that live there.There are big Albanian communities in Bronx, Astoria and Brooklyn which reminds that I am somewhere in Albania, hearing all the Albanian accents.
What do you like more in this country than in your own country? Or less…WHY???
The spirit of giving, philanthropy. Americans are big givers and support their causes they believe in, more than any other countries. Last year, when we had Hurricane Sandy in NY, I was volunteering in one of the shelters. It was overwhelming and touching to see, thousands of people called to donate, money, food and clothes, and also volunteer their time. Also, the awareness and positive attitude that nothing is impossible if you really work hard and want it!
What is best about the area where you live…any other cities you would like to live in??
I enjoy the beauty and peacefulness walking along the East River, being close to Central Park and the Metropolitan Museum of Art, the quietness of the neighborhood, and the many small ethnic restaurants. If I had to live in another city, I would choose San Francisco for the cost of living, quality of life, diversity of culture, and the great food.
Music is important to you. Do you still perform?
Music is food for my soul! I would like to perform as much as I used to do. I am planning to have a concert soon. Playing the flute even for myself or family and friends, is such a wonderful and happy feeling.
Do you recall when did you first get involved with EuroCircle? I have such wonderful memories of you plating flute at the Finnish UN Ambassador's residence and some of our other events.
I have been involved with EuroCircle as a member, since 1999. I started playing the flute in various events that you and EuroCirle team arranged so beautifully. I have wonderful memories from all the events I have performed, but the most memorable are the one that you are mentioning above and also the Holiday gala event at the UN. The acknowledgement and appreciation you get as a musician when you perform is indescribable! I also take this opportunity to thank you personally for giving me the chance to perform at so many memorable EuroCircle events and for your support! EuroCircle organization has played a big role in every expats life, professionally and personally. It makes you feel welcome and at home.
Connect with Moza Cakrani Frankfurt
Facebook: www.facebook.com/mcfrankfurt
LinkedIn: Mimoza Frankfurt
EuroCircle: Moza Cakrani