1001 Nights @ Russian House of Austin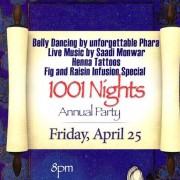 EuroCircle, Russian House and Phara are excited to announce annual party 1001 Nights.
In the spirit of wise and beautiful Scheherazade we are inviting you to dress up as a Persian queen for the costume contest, belly dancing to live music by Saadi Monwar, and get Mehndi tattoos by Nisha.
Fig and Raisin infusion will be on special all night!
Reserve a table here!