EuroCircle Atlanta Get-Together @ Mandarin Oriental's Taipan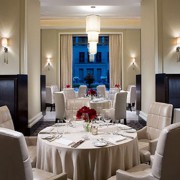 We will have our September EuroCircle get-together on the second Tuesday (September 11th) at the newly opened Mandarin Hotel (formerly the Mansion) located at 3376 Peachtree Road / Atlanta 30326.
$3 bottle water and sodas, $5 beers and $7 wines along with free appetizers.
Valet parking will be available at $12 – otherwise feel free to self park off premises as valet parking is the only option at the venue.
We will meet towards the back of the hotel where I have made arrangements for us to use the TaiPan area with access to the outside garden and patio area.
We will have two cash bars set up along with cocktail waitresses taking drink orders.
You also will be able to buy drinks at the Hotel bar which is across the hall from where we will be meeting.
This is a very nice venue and a good turnout is expected.
Be sure to RSVP for this event as we need to give the hotel a headcount…..
See you there!
Your Atlanta EuroCircle Team
(David / Randall)
Email us at : atlanta(at)eurocircle(dot)com