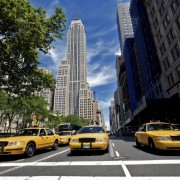 During the 1980s, I lived and worked in Germany (I'm originally from England, however). I had 6 weeks paid vacation, and always made good use of it. My then boyfriend and I frequently visited the USA for 4-5 weeks at a time, discovering its beauty and its vastness, and with the generous vacation time we both had, we were really able to explore and get to know the areas we visited. In my wildest dreams, I never expected that just a few years later, in the mid-1990s, I would be actually living in the USA!In 1993 I left Germany and joined a cruise ship based out of San Juan, Puerto Rico. Whilst there I met my husband, and two years later joined him in Florida. At that time, I couldn't imagine ever going back to a cold climate or a dull, grey city.
The sun and sand was all I needed. After 11 years in Florida, during which time becoming a US citizen (whilst retaining my British citizenship….), we moved to Atlanta. We've now lived here for 6 years, and Atlanta certainly does have a lot to offer. Now, the reason I brought up the vacation time at the beginning is because one of the things I want to touch on about life in the US is the very sparse vacation time. Whilst this doesn't apply to everyone, the general norm is 1-3 weeks. In my current job, I get one week. One week!!! It's barely enough time to get unpacked…
After being here for so long, I've also learned that sun and sand does not a life make. There is nothing in the US that really compares to a Paris, or a Rome, a London or a Berlin, even though New York is a close contender and I hear San Francisco is very cool. There are times when I yearn for the cobbled streets of a quaint village with the local pub, the butcher and the bakery, or for a big vibrant city that I can actually walk around. I would love to be able to hop on a bus, train or tram to go shopping, or to go to an appointment, or even to get to work.
I often miss the lifestyle of Europe, quite different from here. But could it be that the grass is always greener? When we get visitors from England, they comment on how lucky we are to be able to live here. They talk about the space, the cleanliness, the trees, the food, the laid back vibe. They comment on how affordable everything is, and how we would never be able to afford this kind of lifestyle "back home". And after 2-3 weeks of enjoying every moment, they head back home, always reminding me to come and visit.
I would love to. If I only had more vacation time…
by Vicki Cimkentli (Linkedin profile)